Like many other SEO tracking tools mangools is a highly used and accepted SEO tracking tool now a days. People are choosing mangools tools over other SEO tools and giving their first preference, as it is an easy to navigate, user-friendly, and most importantly low-cost tool.
Our Verdict
A small verdict by our research team on Mangools SEO tracker tool
Pros:
Low-cost Tool
Easy to use
Accurate result
Can easily track multiple projects at a time
Many features in one place
Cons:
Keyword Research Volume is not accurate
Time limit occurs many times
Free trial is so limited
Organic Link report Missing
2 Minutes Mangools Reviews
Mangools is a highly recommended low-cost SEO tracking tool. It fulfills all your requirement at one place, that is keyword research, keyword volume, Keyword difficulty, competitors analysis and many more like other keyword research tools do. Mangools SEO tracker tools dose not give you any free option, you can simply have to pay for each of your requirements. But yes it gives you a free trial for 7 days. Its free trial is so limited that you can track only 5 keywords or queries.
Besides that Mangools is a low-cost tool and easy to understand. Even the fresher SEO can also handle these tools efficiently. The result of this tool is really helpful for any level of SEO Expert.
Mangools reviews are highly recommended. This tool can be useful for, bloggers, Vloggers, SEO experts, Market Researchers, affiliate marketers, and business owners.
Pricing Overview of Mangools tool
Mangools offers 3 different packages for subscribers. All packages include their feature and limitation. Its costing starts from Mangools basic package of $30 per month to Mangools Agency package of $ 80 per month. You can get a subscription for a year as well with, an annual package includes some discount and you can save up to $50.
Mangools Reviews: How this SEO tool exactly works and gives result?
Mangools can be explained as SEO tools or software, that expresses themselves as a less expensive alternative to other SEO tools like Ahrefs, SemRush, etc, and Mangools tool is a little bit succeeded in proving itself as a cheaper tool than other.
Mangools Tool Contains the main 5 apps, for which you can subscribe separately, and use them by your requirement.
KWFinder: Highly focused and highly used
SERPChecker: Detail analysis of given Keyword on SERP
SERPWatcher: Mangools Rank Tracking Tool
LinkMIner: Mangools Backlink checker
SiteProfiler: Tracks backlinks and distribution on social media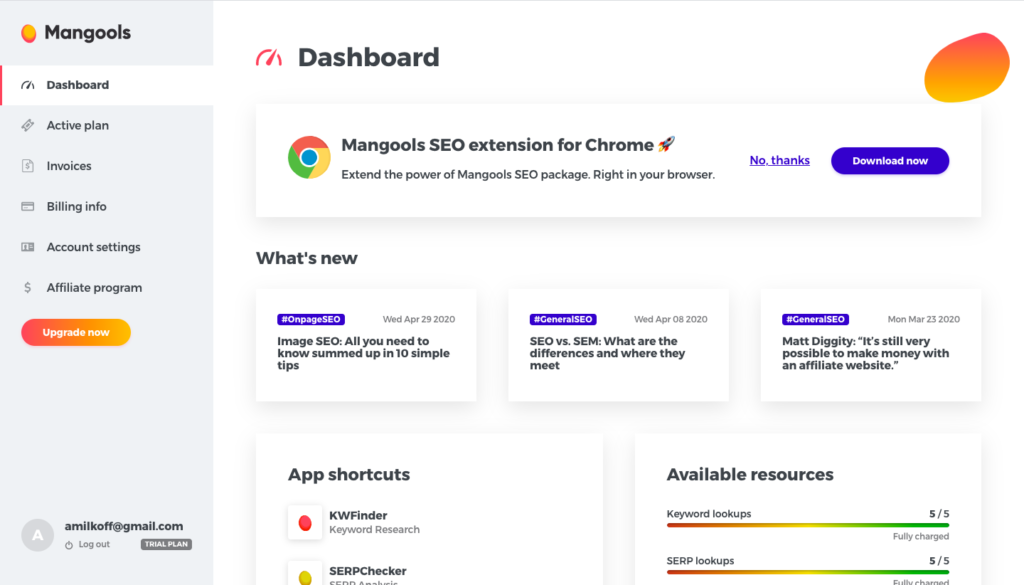 As you finish your signing up and login, you will enter the dashboard, and here you will find those 5 tools are waiting for you to be used. As per your subscription plan, you will have an access to different tools and their daily limits and monthly limits.
If you are not a subscriber, then just log in and enjoy its free trial for 7 days. But truly you cannot enjoy it much as it imposed so many limitations on the free trial.
How to use Mangools SEO all 5 tools?
To get maximum value from your subscription you must know how to use mangools SEO tools efficiently before you reached the limit of your subscription.
1. KWFinder
As the name suggests KWFinder tool is used to find a high ranking keyword. This is Mangools highly used accepted tools in its toolkit. This tool is Mnagools premier feature in all the tools.
KWFinder tool is so much smiler to other keyword finder tools, that is put your keyword in tool and you will get its competition, volume, CPC, and some more keywords suggestions related to your keyword.
The characteristic of this tool that makes it different from other keyword research tools is that KWFinder spits super well. Our team found that other keyword research tools just give the variation of the same keywords.
And at the same time, KWFinder comes up with so many other related things that many tools don't. It also gives the bulk suggestion of keywords that are not just added to the beginning or end of what keyword you entered and not even a bunch of autogenerated keywords.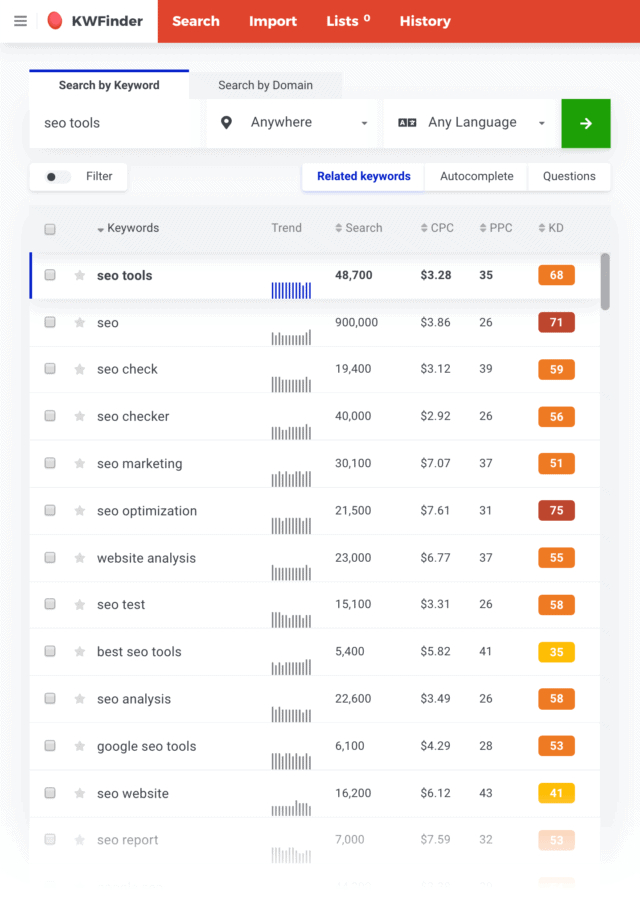 KWFinder is good at generating good keywords ideas but at the same time it does not gives you as many keyword suggestions as SemRush or Ahrefs tools give.
In fact, if we search for a large scale keyword generated tool, KWfinder occupies last position in in terms of number of keywords suggestions.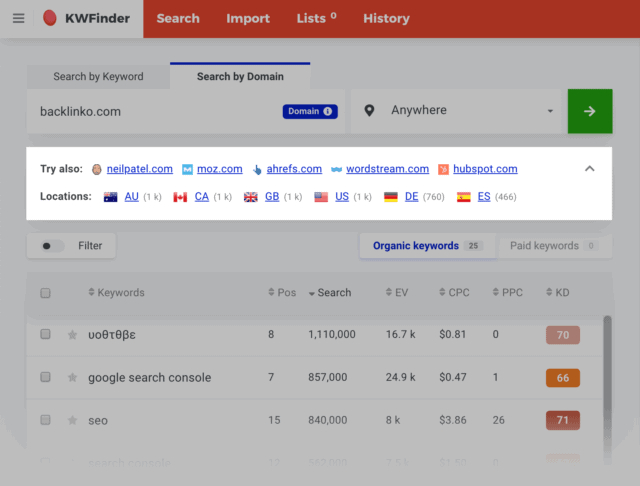 Finally in one word KWFinder has done a nice job and gives us a quality keywords suggestions, rather it does not gives as many suggestions as other keyword research tools produce in the market.
One more thing I would like to mention that its UI and navigation are really interesting and user-friendly. You will get all your requirement in keyword research on-page. Keyword suggestions, filters like region, languages are available and you will found Keyword density, its volume, CPC, PPC, EV, Position on the same page in a different matrix.
This tool also gives a small analysis of competitors' sites for the same keyword. So yes KWFinder is useful and worth to subscribe.
2. SERPChecker: A Keyword difficulty tool by Mangools
Detailed analysis and study of SERP for your targeted keyword is the function of Mangools SERPChecker tool. Mangools reviews include reviews of its every section and tools so that user can get it at a single search.
Like other SERP checker tools, this tool also gives you the stuff or data like keyword difficulty score and all, but at the same time, this tool gives you a complete breakdown of every page for that the keyword is ranking.
The most interesting of this tool is that you can see the ranking of each page, PA, DA, Alexa Rank, Majestic SEO trust flow, and more for your target keyword.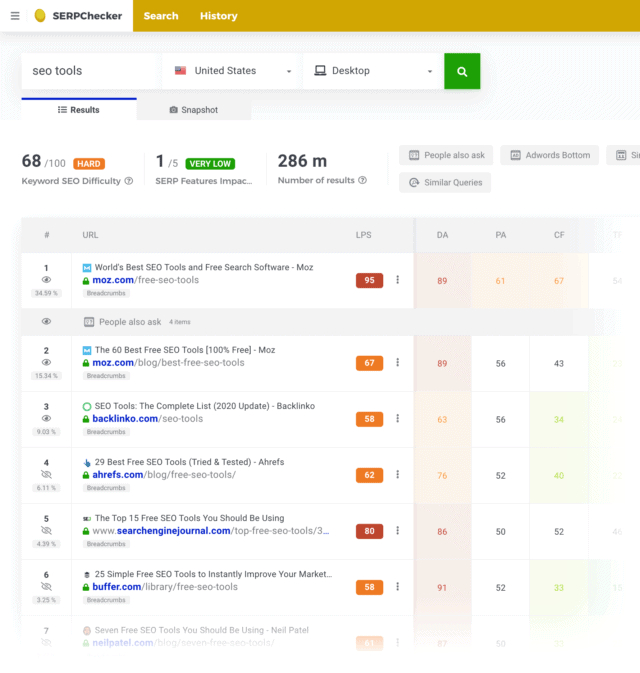 There is one more button you will find on the dashboard that is "SERP features Impact". This feature shows you how SERP first page crowd is for and how organic traffic fixes on the page and this traffic can bring clicks for that keyword.
To higher the traffic on the first page of SERP, there will be more ads, more clicks, and gain more traffic to the same post. There is also a snapshot tab on the dashboard so you don't need to open an extra google tab to check the real-time SERP. You can verify its original SERP and SERPCheckers result on the same dashboard, this feature makes SERPCheckers truly different from other tools in the market.
So this way you can cross-check the main SERP result and tools result on the same dashboard you don't need to open another tab in google.
Many times when we do keyword research we have to open two tabs one for tool and another tab on google so that we can compare both the results whether those are equal or not. But using these SERPChecker tools you don't need to open a tab in Google.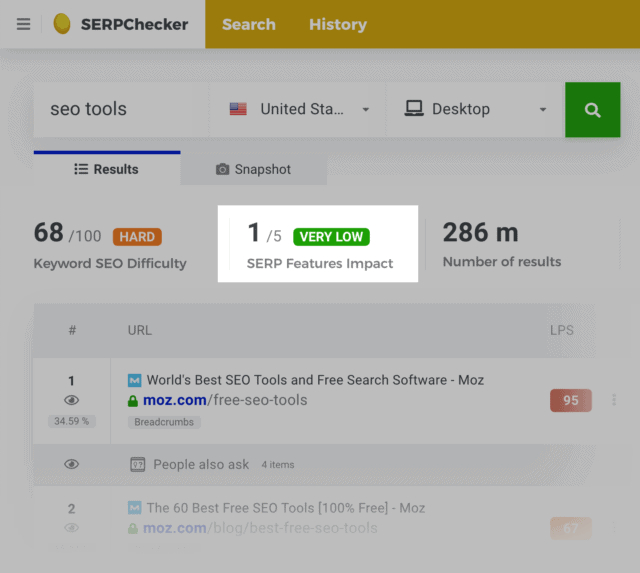 Other than all those feature one more feature make it different from other tools, you can also compare your page from your site with SERPs result. It will add your page matrics to the list so that you can compare your page with already ranking SERP pages on google.
In final words for this tool, SERPCheker works so smartly and has many benefits using this tool. Specifically getting extra information about sites PA, DA, Alexa Ranks, Trust flow are useful that other SERP checkers tools do not provide in a single dashboard.
So yes this feature is cool use and worth investment and time.
3. SERPWatcher
This mangools tool is so much similar SERPWatcher tool in the market. There is no much interesting feature that makes this tool different from other SERP Rank tracker tools.
You can insert bulk keywords at a time or can upload a spreadsheet into the tool, it will take approximately half an hour to check ranking for those keywords and then give you a result. This facility is provided by almost every rank tracker tool available in the market. Just this tool is cheaper than others.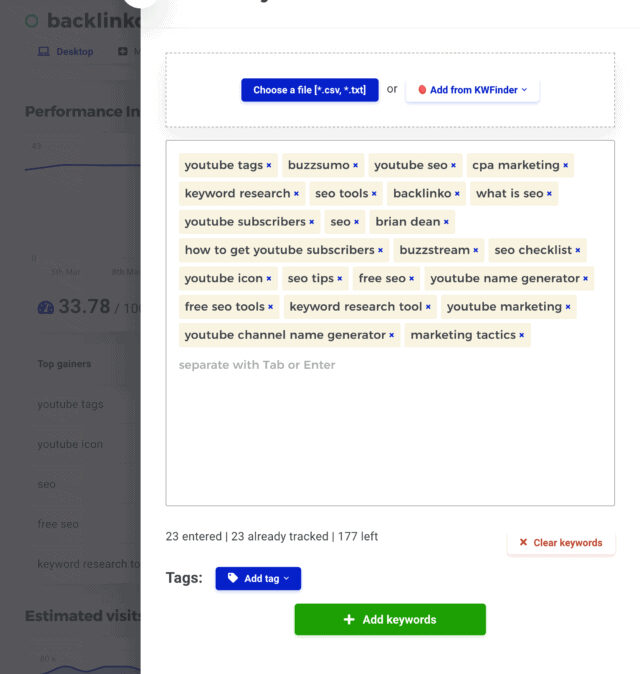 The only thing that markets this tool different from others is, I categorized your keywords. This is a standard feature you can keep your eye on it.
4. LinkMiner: Backlink Analysis Tool
This is mangools LinkMiner tool, which is a backlink analysis tool.
Moz, SEMrush, Ahrefs does not have their link tracking tool they use Majestic SEO API. This same thing is applied to LinkMiner as well and This is a good thing.
Many Backlink tracker tools have done their analysis by own way and it results from the creepy and messy output which hardly can be understood. These tools are very very expensive and their result ends up very crappy.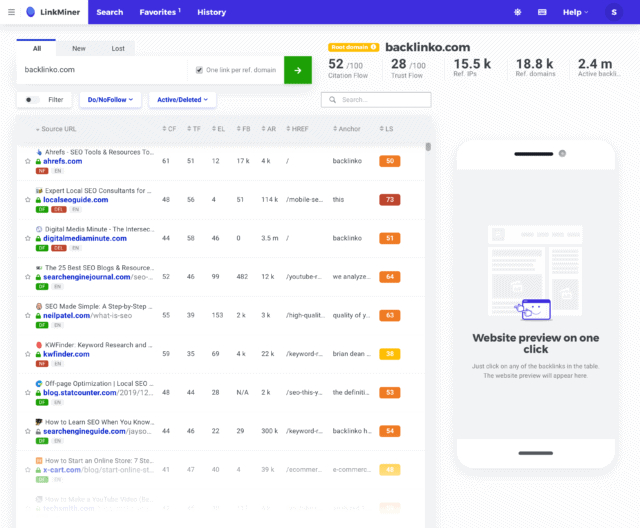 So using the Majestic SEOs link index is best. Mangools LinkMiner uses this API so you can trust on data you will get from Magools. Like many other backlink tracker tools, LinkMiner also gives you data in the form of a list of backlinks pointing to your domain home page or any particular page, and differentiate the links dofollow and nofollow, citation flow, or Alexa ranking.
"Websites Preview" is a very unique feature provided by mangools LInkMiner tool. It gives you snapshot where this backlink gets generated and scroll you down to where this link is pointing to your website.
As we can see Mangools LinkMiner uses Majestic SEO API, their backlink tracking matric is top of any other tools, and Website Preview feature is also unique and important.
5. SiteProfiler
This feature is truly not much important and worthy, here I will explain how it works. Open Mangools SiteProfiler tool you will get a pop-up where you have to put your website name.
And hence its task finishes, it gives you an output with complete backlink profile of your websites. That is how many backlinks are active, lost backlinks and that's it. The one another feature is it gives you top-performing pages on your website and you can enjoy by seeing the result for some time. This feature can be included in mangools LinkMiner tool, it's not that important to have a separate tool to show just the backlink profile of any site.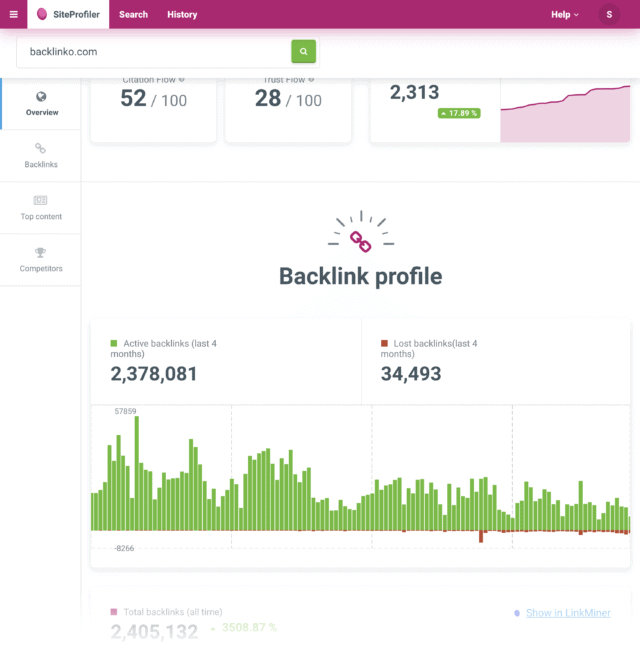 Mangools Chrome and Firefox Browser Extensions.
Mangools has its browsers extension, let's covers the reviews on them and see how those works.
Many SEO trackers provide browser extensions so that you can easily track your site's link authority, backlinks, and many other things.
To access your browser extension you must have your paid subscription. Then you don't need to login in every time to check your backlinks profiles or authority. You can easily check this using your browsers extensions. This feature is provided by every SEO tracker's tools, just consider these chrome and Firefox extension are available cheaper in pricing, so it will be a bonus.
Reviews on Mangools Support
Mangools support team is highly customer friendly and gives a quick response to any of your queries. Live chat option is also available and it's really helpful.
Mangools Review: Positive thoughts first
Ease of use: Mangools tools are very cheap in pricing. The dashboard is easy to navigate. Mangools UI is very easy and every button and label explains unique information. You can find everything easily with your clicks, and things are separately mentioned.
Pricing: As I mentioned this thing many times it is cheap, and gives a lot more in return. $30 is a small amount for a month to expand, and at this price, you are getting Majestic's backlink trackers, for which you have to pay a huge amount at other tools.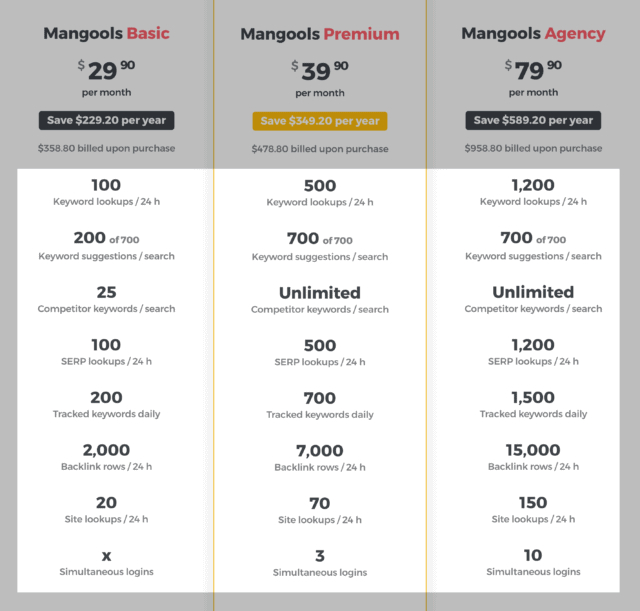 Features: Considering the budget its has really good features, especially like Majestic SEO API, Website Preview, etc.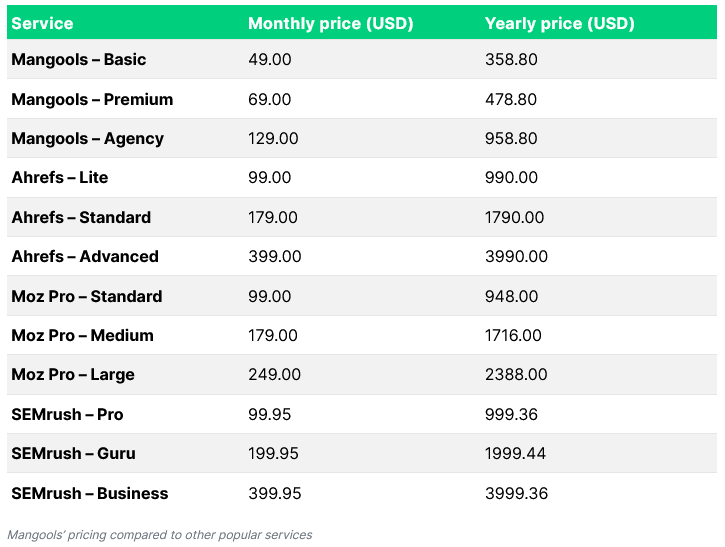 Mangools Reviews:  Can be Improved
Those are the points where is not as good and can be better, in my opinion.
Integration: As you enter the dashboard you can see they separate all their features and apps. You can feel like you are using 5 different apps. Even when you click on any one app it opens in a different tab. In other tools, everything are integrated properly with one another. You can check link building to SEO audits in one click.
Limited Features: Many of the features are missing, which are highlights of its competitors. Such content analysis is not available at Mangools, but at ahrefs it is available. Similarly complete SEO audit feature is also missing, SEMrush is highlighted by using this feature.
These are some of the features examples that Mangools should have, and there are many such features missing.
Final Verdict- Final Mangools Reviews:
Whether to go with Mangools or not is depends on what your position is, and what is your budget for SEO
If you are fresher to SEO or it is your side by task you can go with Mangools, it gives lot more in $30 for a month.
You can not compare Mangools with Ahrefs and SEMrush, they are a different league
If you think to spend more than earlier and now on Premium on Mangools it's not so beneficial, as it doesn't improve its next tier, it just gives you more access to data.
If you can spend much more on your SEO budget, and your mainstream is SEO then go with Ahrefs and SEMrush, these are more costly but feature-reached than mangools.
Conclusion: If you have a limited budget or you are fresher to SEO or if you are doing SEO side by, then Mangools is Enough for your requirement.
But if you are mainstream SEO Experts and you can expend much more then go with Ahrefs and SEMrush.