Without a doubt, NordLayer is the best network access security solution for modern businesses and has become hugely popular around the world for offering a huge number of lucrative features at the best prices. They have a user-friendly interface and thus can easily be used and handled by anyone who knows the basics. Developed, marketed, and owned by Nord, the same cybersecurity brand that also developed and presently owns NordVPN, NordLayer has been positively reviewed by a huge number of users and is regarded as the best network access security solution in the world, at this moment.
NordLayer: An Outlook
Next, we shall take a close look at some of the best features of NordLayer and how they might be useful to the business or individual using them.
Network access solutions are accessible – In today's world dominated by the internet and technology, all companies and businesses require dynamic security from a firm or company that can keep adapting and evolving with time. NordLayer I completely dedicated to adapting to the needs of the clients and thus, there is no chance of them ever getting outdated.
Scalability at pace – NordLayer provides its clients with various options to scale their solutions fast no matter how much the business fluctuates. Designed in the most masterful way to save the time of their clients with seamless implementation, NordLayer offers simple and efficient solutions to all problems faced by administrators in IT companies.
Free and easy integration – The present, existing secure network access solutions offered by NordLayer are quick to start working and mix well with any existing infrastructure and thus provide the user with quite a few layers of network security. Since they are completely free of hardware and designed in such a way that they can work well with any existing cloud service, NordLayer was designed for an easy and versatile transition to the existing network structure of the client.
NordLayer: A completely secure network solution
Next, we shall take a close look at some of the features which make NordLayer the most secure network there is.
Remote access – It doesn't matter whether your team is sitting on a couch at home or on the go, because, with NordLayer, sensitive information and resources can be accessed anywhere and at any time.
Security is customizable – The cloud-based VPN of NordLayer can easily be changed and modified to fit the needs of your institution, business, or employees. You can easily build teams, construct private gateways, and instantly add dedicated server locations worldwide with the easy-to-use Control Panel of the client.
Easy and quick deployment in only a few minutes – The superior cloud-based VPN developed by NordLayer is quick to get deployed and it takes only a few minutes to set and activate the service of the client. NordLayer is the best way to protect the security of your business and information and employees and resources.
A wide number of plans offered
Keeping in mind the needs of their clients, NordLayer offers quite a few plans that you can choose from, depending on your budget and requirements and other important criteria.
Yearly
Advanced – Charged at $ 11.00 for each user per month, it also comes with an optional dedicated server with fixed IP, which is charged at $ 50.00 per month. All over, the advanced pack, for a year, has a wide number of additional, special features in addition to the basic features and is thus, at this price, quite a bargain.
Basic – Charged at $ 9.00 per user per month, this package comes with the most basic features and is pretty efficient if you do not require the added, special features.
Monthly
Advanced – Charged at $ 9.00 per user per month, and billed at $ 108.00 annually, it comes with an optional dedicated server at fixed IP, which is charged at $ 40.00 per month. This plan comes with a lot of special, additional features along with the basic features.
Basic – Charged at $ 7.00 per month, and billed $ 84.00 annually, this is the most basic plan that you can choose and it comes with the most fundamental features.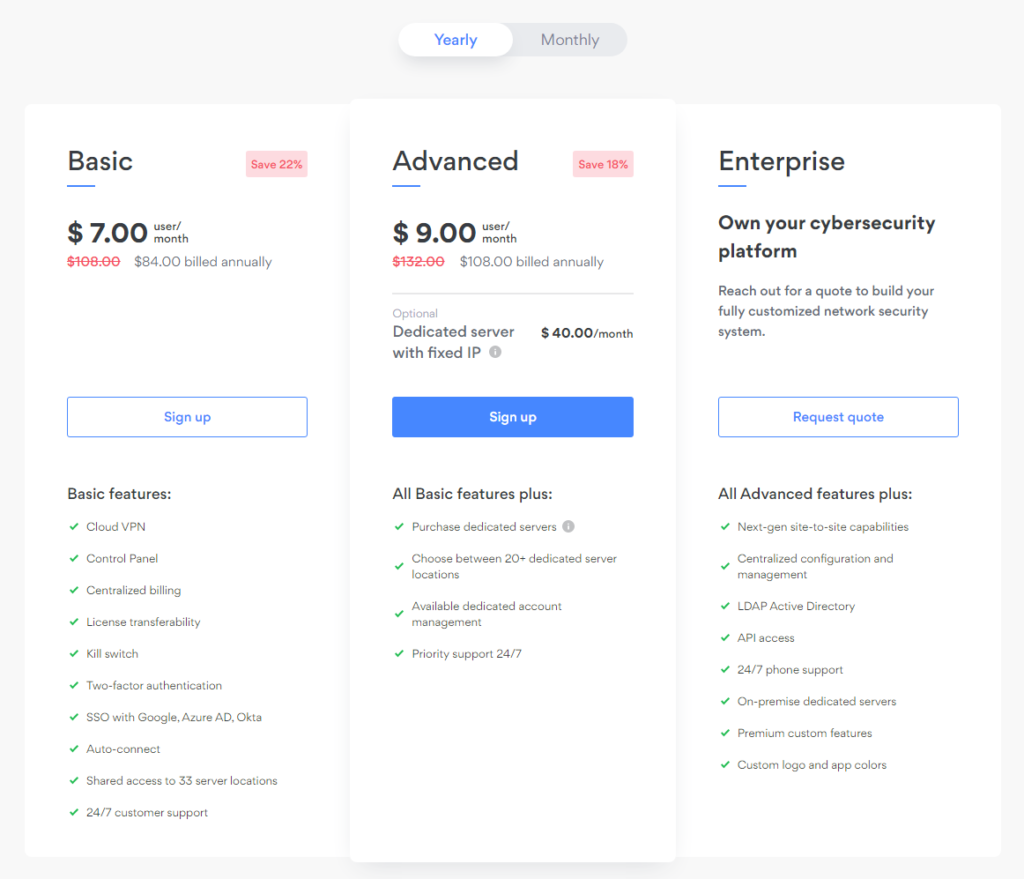 Trusted Worldwide
Now, this is the section that might be deemed important in the entire article, by some. For those seriously considering NordLayer, you can be assured of superb services as they are trusted worldwide by companies, firms, and networks such as Facebook Inc., Nvidia, Udemy, Xiaomi (Mi), and Dribble.
Lastly
Thus, NordLayer is a network worth trusting and might even be the best out there, with a wide range of features offered at the most affordable prices. You can read up more on their website which lists all their plans and features and characteristics in detail. For further information, visit NordLayer.