A VPN or a virtual private network helps users to use the internet, that is surf various sites securely, with maximum speed and in technical terms, a VPN imitates a private network over a private one. Here, we shall take a look at Surfshark VPN review,its pros and cons, the different prices it is available in, an overview, the various advantages or benefits, complete reviews, and a final verdict.
For those that do not know what a VPN is and also for veteran VPN users, we shall recap what a VPN exactly is and how it functions. We shall see how it works
A VPN helps in the encryption of our business traffic and makes the browsing of the internet on your part more secure and private.
A VPN hides your Internet Protocol, that is, IP, address, and keeps your location secure from the service provider.
A VPN allows users to bypass various restrictions such as government censorship and such and access internet content freely.
A VPN also helps a user to stay secure when they are using public Wi-Fi hotspots.
Thus, in today's world that is dominated by science, technology, and finally the internet, a VPN is very important if one wants to access internet content freely.
Surfshark VPN: An Overview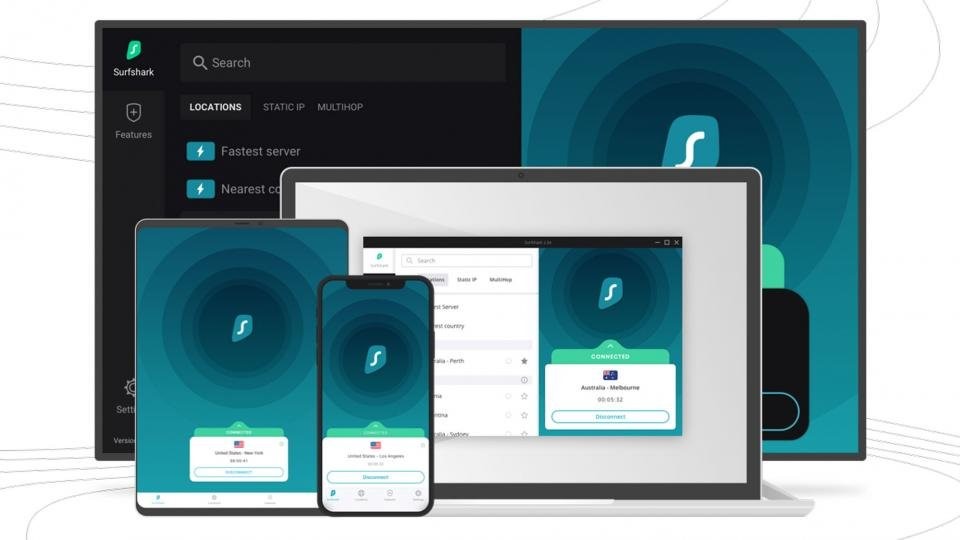 Since this is a Surfshark VPN review, it is best to mention at the very beginning that Surfshark is an award-winning VPN that is preferred by millions and millions of internet users all over the world. It is known for its various exciting features, and most importantly, its super speed, less traffic, and also its low cost, which is quite lower than most other rival VPN services. It works in the same way as any other VPN service, that is, by the encryption and subsequent disguising of your internet traffic and then, is also reroutes the data packets of its user using one of its VPN servers. Thus, it the Internet Protocol address of the user, that is visible and the location you are browsing from, changes.
Surfshark VPN was developed and launched in 2018 and had several groundbreaking features such as KillSwitch, ByPasser, CleanWeb, and MultiHop. It was the same year that it was audited by Cure53, independently. The next year, that is, in 2019, Surfshark launched its Alert & Search feature. They also introduced the very first Digital Quality of Life (DQL) index. They also released a free app called TrustDNS. They also received their Seal of Approval from AV-Test. They also Introduced the in-built GPS spoofing on their android app.
The next year, that is 2020, was a huge year for Surfshark as they founded VPN Trust Initiative and became members of Electronic Frontier Foundation, Internet Society, and also Access Now. They also moved to a 100% RAM-only server network.
Thus, over the years, that is, in just three years, they have achieved a huge amount of appreciable feats and established themselves as one of the biggest names in the VPN service business. They are now a globally recognized brand and are trusted by a huge number of individual users, companies, and also businesses. They have received numerous awards, accolades, honors, accreditations, recognitions, and approvals from various well-known organizations and boast of having some of the biggest names of the world, in their fields.
Pros and Cons of Surfshark VPN
Surfshark VPN is one of the top VPN services in the world and has various features that make it so. Though it scores full marks in almost all areas, there are still some areas where it is slightly lacking and some areas where all the other VPN networks are trailing behind it. Thus, we shall take a look at the pros and cons of Surfshark VPN.
Pros:
The main objective of any VPN service is providing a safe and secure internet connection and this is an area where Surfshark scores full points. Like most other top VPN services in the world, Surfshark provides very safe and secure internet browsing.
Speed is one of the main concerns of any internet user who is using a VPN network and Surfshark VPN is known to provide high internet browsing speeds and that is one of the biggest advantages of Surfshark VPN.
Surfshark VPN allows MultiHop connection, meaning, an internet user can consecutively route their internet connection through two separate VPN servers.
Surfshark is also known to have a very strong global server presence, meaning, Surfshark VPN has a huge network coverage area, all around the world. This helps to maintain high speeds of internet browsing.
Surfshark VPN is correctly priced and when compared to other top VPN networks, it is way less expensive. Considering the features that they have to offer, Surfshark VPN can be the top choice for many.
Cons:
Surfshark VPN is known to have very questionable customer service. They are always eager to answer the queries of clients and solve doubts and problems, but in many cases, it has been found that the advice given by them was inaccurate.
Most top VPN brands have a very strong social media presence, which they use to announce important updates and such. However, it is not so in the case of Surfshark, which has a very weak social media presence, with hardly any activity on its Twitter handles.
Surfshark VPN is known to offer very erratic P2P behavior, meaning, the torrent speeds are quite low, in spite of quite a high internet browsing speeds.
Pricing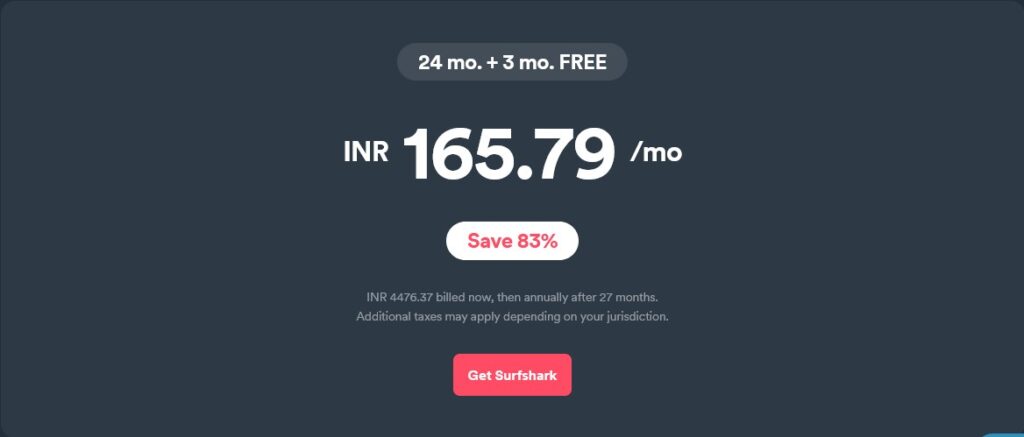 Surfshark VPN is quite accurately priced and when compared to other VPN networks, it is quite affordable. It offers various superior features such as usage on unlimited devices, 24/7 customer support, independent audit, AdBlocker feature, Two Factor Authentication at the most affordable rates.
Surfshark VPN costs $2.49 per month. They also have a plan which is currently priced at INR 165.79, for 24 months and an additional 3 months for free, saving 83%. It was originally billed at INR 4476.37. One can also opt for the plan where you get Surfshark VPN for 6 months, at INR 499 per month, saving 49%. One can also opt for INR 970.03 per month, with additional taxes depending on the jurisdiction of the user.
Protocols
The various protocols, that is, features of Surfshark VPN are as follows.
CleanWeb, which enables the user to browse an internet that is free of malware, unwanted ads, and phishing attempts, and trackers.
Unlimited devices can be connected and used simultaneously with Surfshark VPN.
ByPasser, which allows several apps and websites to bypass the VPN, and is great for baking apps.
Surfshark VPN has a very strict no-logs policy, meaning none of your activities or anything you do is kept track of or kept logs off.
It has a Kill Switch, in case your internet service fails, to keep all your activities private and your security foolproof.
A private DNS is used on each server along with leak protection services, using IPv4 stack, and this elevates their security to the next level.
The security protocol in Surfshark VPN is IPsec by default, which can be changed.
All your data is encrypted.
You can also change your IP address using Surfshark VPN.
You can browse privately by encryption of your data so that no one can keep track of your activities.
NoBorders feature allows users to access users anywhere.
Camouflage Mode helps you hide the fact from your internet provider that you are using a VPN.
Benefits
The various benefits of Surfshark VPN are as follows.
Helps you to protect your online privacy.
Control all your online activities.
Access content freely and safely.
Helps you unlock numerous exclusive benefits.
Final Review and Verdict
Thus, Surfshark VPN scores highly in various areas such as speed, privacy, encryption, pricing, IP address spoofing, and such features which make it one of the top VPN services in the world. The cons are not directly related to the servers themselves. They are external factors that still need to be worked on. Thus, Surfshark VPN is worth choosing and one can absolutely go for it if one buys a VPN plan.
Conclusion
Thus, Surfshark VPN is one of the top VPN services in the world and really is worth using. One can choose to buy one of the bigger plans to avail discounts, and they come with a lot of amazing features which really make Surfshark VPN worth choosing.