To say that the year 2020 has been disruptive, would be an understatement. The pandemic has not only changed our outlook towards the way we conduct business but has also forced us to come up with innovative digital solutions to streamline the traditional process. The fashion industry, in particular, has taken a hard hit because of the pandemic, mainly due to its already complex supply chain. Now, in order to keep the business on track and still emerge strong after the pandemic, brands have started to look towards technological solutions. And one of these solutions is 3D Virtual Sampling or 3D Rendering.
Now, you may be wondering what exactly is this 3D Sampling? Let me break it down for you. 3D Virtual Sampling allows the designer to create a digital 3D prototype of the product in order to visualize the product in the early stage before it goes into mass manufacturing. This way, designers don't have to go through the traditional, often lengthy, and fussy process of product sampling. The technology has quickly gained major popularity among brands like H&M, Nike, Hugo Boss, Victoria's Secret, etc. In fact, the surreal, 3D backdrops and live-life quality of these images make it extremely hard to tell the difference between the real and the artificial thing.
In this article, we will share some key points about FlixStock's 3D Virtual Sampling solution. We will break down the entire process and show you how you can design your product sample digitally and at a fraction of the traditional cost.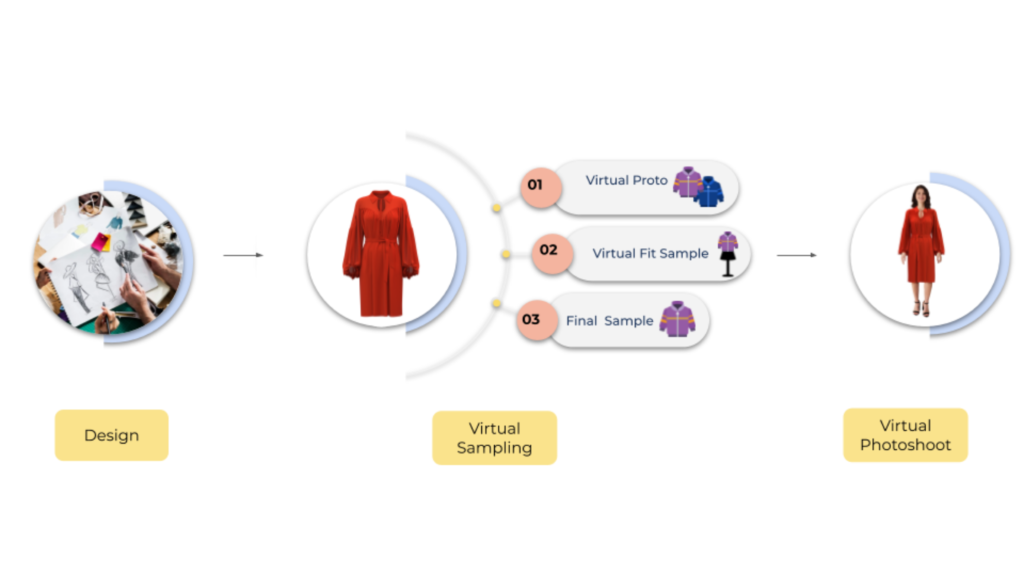 Traditional Vs. 3D Sampling
Now, in order to understand why you need this technology as oppose to the traditional method, you first need to understand the basic difference between the two. Firstly, the most important distinction between the traditional method and the digital method is that it drastically reduces the supply-chain time. Whereas the traditional sampling process would take months of iterations and multiple physical samples, 3D Rendering allows for quick work of designing and editing the product samples without any fuss. According to Kevin Almond, "Digitalisation and 3D sampling technology are increasingly enabling a reduction in the amount of manual sampling that is necessary, particularly in fast fashion."
Secondly, it offers a much greater creative freedom to the designer. With 3D sampling, the designer can experiment with as many colours, fabrics, designs, styles, etc. as they like without having to worry about production cost or making physical samples. And lastly, this technology allows brands to practice sustainability on a much larger scale. When the entire process is digitized, it leaves no scope for any garment wastage, allowing the brands to not only save money but also conduct the business in a much more responsible manner.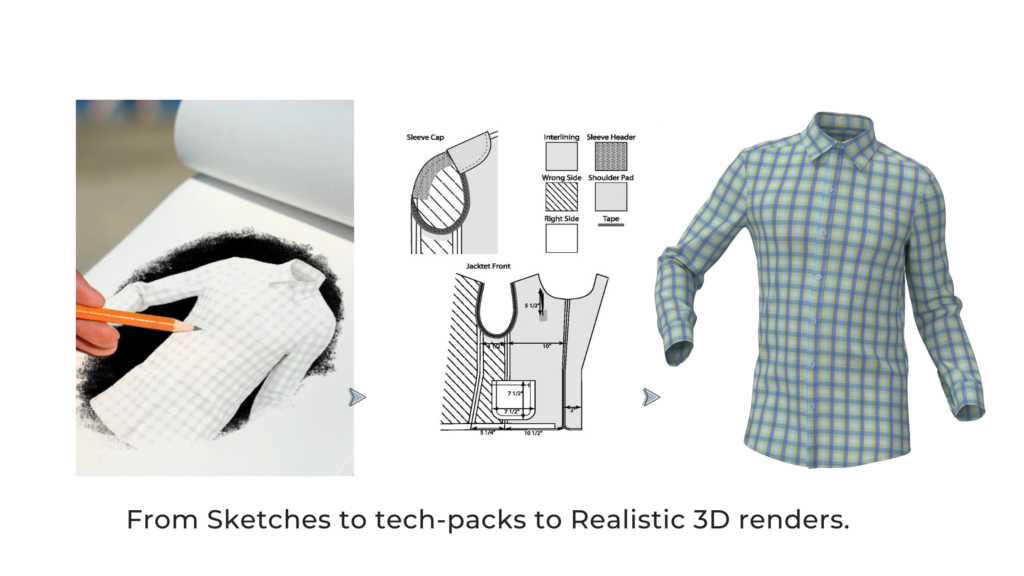 FlixStock's Approach 
You may be asking yourself, why should you trust someone else to design your products? In order to answer this question, I'll first need to break down FlixStock's approach to you. When designing a 3D product imagery of a garment for the client, we generally only ask them for three simple things:
Design Patterns / 3D Files
Tech Pack
An image of the garment (Rough Sketch)
With the help of these three basic elements, our design team creates a fully AI-generated, 360°, realistic rendering of your garment. Regardless of how complex the design is, our team of designers is up for any challenge.
After the 360° image of the garment is developed, the next step is to drape the garment onto a model. This is where our 3D modeling software comes in. Whatever the client's requirement may be, whether they want the garment draped on a live model, mannequin, or a 3D avatar, we provide them with all three options to choose from. The digital garment design is draped on the avatar, making sure that the fabric or the cut is presented exactly as the client wants, or that the on-model depiction successfully represents all the natural properties of the fabric. This entire process makes it so that the client doesn't have to go through the traditional process of a photo shoot, hence, cutting back on production cost.
Now, this is not where the journey ends. The next step introduces another level of technology to the whole process. This is where we take things a notch further and provide you your garment's 3D avatar in different poses, style requirements, or on different models. Depending on the client's requirements, we provide the on-model imagery of your garment in multiple poses, or on different models, whether it be a plus-size model, a petite model, or on models from different ethnic backgrounds. Keeping diversity and inclusivity in mind, we use 3D technology to provide the client their product imagery on models with all kinds of ethnicities.
Now lastly, you may need some lifestyle images or social media posts for your product, right? FlixStock's got you covered. The last step is to use 3D Rendering to provide you with a range of social media images or lifestyle images of your product. In the age of social media and influencer marketing, you will certainly need high-quality images of your product to promote it on various social media platforms. Don't worry, our team of experts uses 3D technology to provide you with a range of high-quality, trendy images to put on all your social media platforms. Sounds like a dream, right?
All in all, our technology strives to revolutionize the traditional sampling process and use computer-aided solutions to create a better alternative for our clients. According to Harindar Keer, Founder and CEO of FlixStock, "If your product images can answer the unasked question by the customer, you will be able to sell your product." He further explains that, unlike model imagery, ghost imagery is not able to answer or communicate some of the questions that the customer has in mind. This communication gap is ultimately reflected in the sales.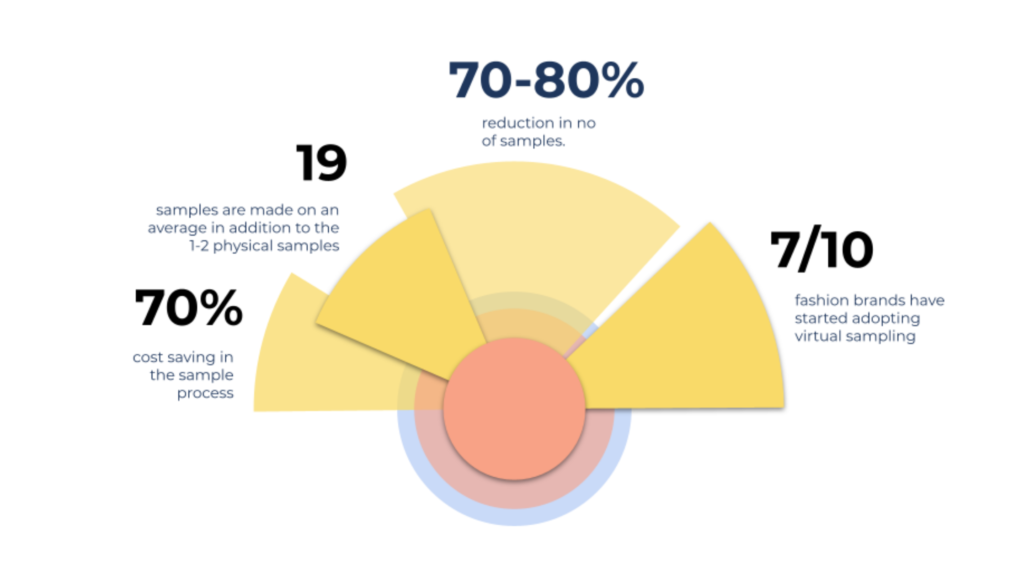 So What Does It Mean For You? 
Investing in a good 3D Rendering solution service can help you cross a lot of barriers that come with product development. Here are some things this technology can do for you:
It helps you save money on tedious and expensive pattern-making processes.
It allows you to get a quick design review with 360° view renders.
When using 3D technology, you get wider creative freedom with endless fabric options, print, colour, or silhouette possibilities.
It eliminates the time and effort spent on a traditional photo shoot.
It allows you to get the product from the designing stage to the market a lot quicker which is essential in a fast-paced industry like fashion.
Wanna Give It A Go?
By now you probably have a good idea about 3D virtual sampling as a solution as well as FlixStock's approach. We hope this has given you a rough idea of how your product images are created digitally and hope to collaborate with you in the future.
About FlixStock
Headquartered in Singapore and with offices around the globe, FlixStock was founded in 2015 by Dr. Harindar Keer. FlixStock helps Fashion Brands and Retailers generate high-quality catalogs ready on model images through its proprietary AI technology thus helping them take their product to the market faster.
During the last couple of years, FlixStock has developed itself as the only Full Stack Fashion Supply Chain solution provider with services and products that help organizations with designing products, 3D virtual sampling, catalog imagery, on-model imagery, and many other solutions. FlixStock has helped brands and retailers digitize their supply chain process across the globe, enabling them to get their products to the market faster and more cost-effectively