Beltane Fire or a Brighter Fire name itself suggests what is the festival is about. We see around us many people and communities celebrate their festival every year, or we can say any time of the year people are celebrating their festivals and rituals at their places or locations.
Some festivals have a historic reason, some festivals are patriotic and some festivals are celebrated for mankind. The only purpose behind that is to enjoy and spread happiness around loved ones.
Somebody has said – There are an innumerable number of festivals in the world.
Beltane Fire Festival is celebrated around the bright fire. At night People dance, drink, sing, and show their worship and respect to the God of Summar. Now people around the world come and join the festival.

About Beltane Fire Festival
According to the ancient Iron age Celtic ritual, 30th April is the date of birth of summer and the fertility of the land. Summar brings brightness, hope, and positive energy. Many ancient rituals are now being down and people are busy with their everyday stuff. Since 1988 group of people regenerate the Beltane fire festival again.
The huge site of vibrant fire displays will definitely make you mesmerize and make wish you to visit the place every year. Every year on 30th April at Calton Hill Edinburgh this festival takes place. Many people across the world come and join the festival of fire. Dance, drums, musical collectives around the bone fire, and uninhibited behavior.
Know about more festivals
• Raksha Bandhan Indian Festival
• BhaiDooj Indian Festival
• Diwali Indian Festival
• Christmas
• Valentines Day
What is Beltane?
We saw festivals or any historic rituals changes over time, modernization, education, and people's opinion about things changes every time. To celebrate the return of summer and the wheel of the fertility of the land people join together. This is the time when the land is covered with grass which is not less than any festival for the livestock.
Fire plays an important role from ancient days to now, it is the best cleanser, healer, and purifier. People dance around the bone fire. Collins and blown, people walk through the fire holding the flambeau. Some people also bring their livestock and cattle to walk around the fire to clean and healed before they work on the field or farm.
Beltane means the "The Bright Fire" and this festival means also celebrating the fertility of a living one. You can reach Calton  Hill by walking from Edinburgh. Experience some extraordinary things like men wearing black paint over the body and women donning a white. This festival means many things together, especially the goodbye to the darkness and welcoming the light for the next wheel of season.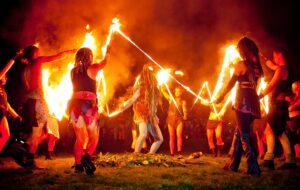 What you can do in Edinburgh other than Beltane Fire Festival?
If you are planning to visit the Beltane Fire Festival, there is one more occasion is waiting for you to celebrate. After the Fire Festival, there is one more celebration is lined up which is the May Day Celebration in Edinburgh. The agricultural roots of Scottland people always show their worship of nature and its power.
After celebrating Beltane Fire Festival and the May Day celebration, you will want to explore the city of Edinburgh. There are many places to visit here, after all, you can not afford to spend a day without any adventures.
Beltane Fire Festival date 2022
On Saturday 30th April 2022, the Beltane Fire Festival will take place.
Where Beltane Fire Festival Happens
Beltane Fire Festival takes place at Calton Hill, Edinburgh Scottland.
Here are the things and places to visit in Edinburgh
Underground Walking Tour in Edinburgh
Scottish Highlands and Hogwarts Express Tour from Edinburgh
Isle of Skye, The Highlands, and Loch Ness- 3 Day Group Tour from Edinburgh
Edinburgh Darkside Walking Tour: Mysteries, Murder and Legends
Edinburgh Afternoon Tea Experience
Scottish Highlands, Loch Ness and Glen Coe Day Trip from Edinburgh
Loch Ness, Scottish Highlands, Glencoe and Ben Nevis from Edinburgh
The Scotch Whisky Experience Guided Whisky Tour – An Introduction to Whisky
The city of Edinburgh is historic and rich in culture and festivals, there are many museums, theatres, and caves that will help to add more satisfaction and relaxation simultaneously. The best taste of Scotch and Whisky will increase the joy. Old Town in Edinburgh is famous for theatre art, drama, and antiquities.
How to come to Edinburgh
By Air:
Edinburgh International Airport is the most important way of transportation. If you are not Scottish the only way to land in Scotland is by Airplanes.
Following are continued flights
British Airways
EasyJet
Flybe
Ryanair
By Train:
If you want to visit nearby cities like Glasgow, Manchester, Liverpool, or Newscastle, a train will be the best option for you. Many express and metro trains will take you to the destination in less time.
By Bus:
There are many coach companies provide their transport for local transportations.
Check the below buses
National Express
Megabus
City Link
Best places to stay in Edinburgh
There are many accommodations available near Baltan Fire festival sites, some of the nearest and best places we find for your guidance, people love to stay here always.
There are many cities in option to stay, but stay comes with the stay- and-explore, we suggest some following cities to stay.
The Royal Mile: This is a highly recommended city to stay in Scotland. You can enjoy the view of the Scottish parliament, old city, and Edinburgh Castle
New Town: This city is famous for Georgian architecture and street shopping
Grassmarket: Trendy Bars, Charmin shops, and restaurants are the beauty of this city, this city was known for hanging to die, but now it totally changed its identity.

Plan for your best Beltane Fire Festival 2022
Airbnb and Hotels- Book Rooms: https://radseason.com/event/beltane-fire-festival-edinburgh-scotland/#book-room
Experience- Book Now: https://radseason.com/event/beltane-fire-festival-edinburgh-scotland/#book-room
Insurance- Get a Quote: https://radseason.com/travel-insurance/
Conclusion: This is the movement when you celebrate the birth of Summer and Fertility of Land, this is really a one-of-its-kind experience. Everyone should visit this place at least once in a lifetime. Here you celebrate the joy of rebirth, brightness, and overcoming the darkness of your life.