POTATO BALLS: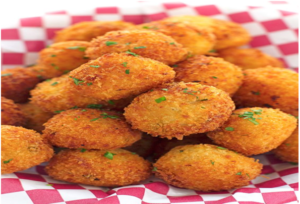 Ingredients: 3 cup Mashed potatoes, 2/3 cup cheese, ½ cup garlic paste, Season, Salt.
Take a large bowl, add 3 cup mashed potatoes, 2/3 cup cheese, 1/2 cup garlic paste, add some season, and salt according to taste. Mix all these ingredients well.
Place 2 beaten eggs in a bowl and 1 cup bread crumbs in a separate bowl. Now take mashed potato mixture, roll it circularly and make a ball using your hands. Dredge in egg and then in bread crumbs. Repeat this process until your mixture gets finished.
Take a frying pan and heat the oil. Fry your dredge potato balls in medium flame until it becomes golden on all sides. Take it out on a paper towel and season with some salt.
STUFFED MUSHROOMS: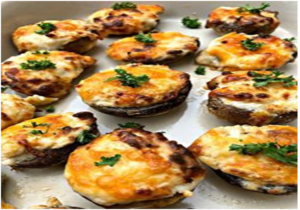 Ingredients: Mushrooms, 2 tbsp butter, 2 Garlic cloves, ¼ cup bread crumbs, season, salt, pepper, 1 cup parmesan cheese, ½ cup cream cheese, 2 tablespoon parsley, 1 tablespoon thyme
Preheat your OTG oven for 10 minutes to 200 C. Grease a baking sheet using cooking spray, otherwise using the brush. Roughly Chop the mushrooms. And place them on the baking sheet.
On medium heat melt 2 tablespoon butter. Add chopped mushroom stems and cook them very well. Add 2 garlic cloves. After a small-time add 1/4 cup bread crumbs and toast slightly. Remove it and place it aside in one pot and let it cool. After that add some season with salt and pepper.
In bowl mix mushroom mixture, add 1 cup grated parmesan cheese, add 1/2 cup cream cheese, 2 tablespoon parsley, and 1 tablespoon thyme. Fill mushroom caps with filling.
Bake until mushrooms are soft or for 20 minutes and the tops are golden.
Garnish with more parsley before serving.
GARLICKY SHRIMP COCKTAIL: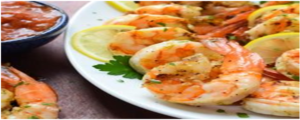 Ingredients: 2 cups bread crumbs, 1 tsp chili powder, 3 tbsp canola oil, salt, pepper, 2/3 cup buttermilk, 1 egg, 3 avocados, 2/3 cup flour.
Preheat your oven to 200 C. Grease the baking sheet using the spray.
Add 2 cup bread crumbs, 1 tsp chili powder (You can use according to your taste.), and 3 tablespoon canola oil. Add season with salt and pepper. Whisk together 2/3 cup buttermilk and 1 egg in another bowl. Place 2/3 cup flour in a third bowl.
Collect 3 firm but suitable avocados and cut each into 6 parts. Season them with salt and pepper.
Working with one wedge at a time, then in buttermilk mixture, and then in breadcrumb mixture. Place on the prepared baking sheet.
Bake for 30 minutes until it becomes golden brown. Season with some more salt and pepper.
GREEK FETA DIP: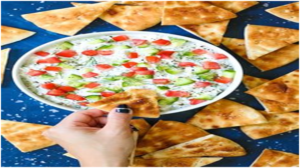 Ingredients: 1.5 cups feta cheese, yogurt, 1 cup soft cheese, ¼ cup olive oil, 1 lemon, Season, red pepper flakes, anise, ½ cup cucumber, ½ cup cherry, tomatoes, and olive oil.
Take 1 and 1/2 cup feta cheese and beat it well using a hand mixer, 1 cup yogurt, 1 cup softened cream cheese, 1/4 cup olive oil, and 1 lemon juice and zest until fluffy and combined. Season, salt, red pepper flakes, and anise stair it well.
Transfer all mixture to a serving bowl and top with 1/2 cup chopped cucumber, 1/2 cup cherry, tomatoes, and a drizzle of olive oil.
Serve with pita chips or nachos or you can serve according to your choice.