Teeka Tiwari is one of the most popular financial advisors in the world at the moment. He grew up in the foster care system of Great Britain in a room that was unheated and was over a garage. He was so poor that he could not even afford his food every day, some days he used to starve because he had no money to buy his food. 
He wanted to travel to the United States of America and so he used to cut out pictures of some places of United States of America which were given in the newspapers and he used to tape them over his bed in his bedroom which he used to do because according to him it helped him to dream a better life. 
When he was 16 years old Teeka Tiwari somehow traveled to the United States of America and all he had was nothing except some clothes in his bag and 150 dollars in his hands. For the first two years of his arrival, he worked all kinds of jobs to earn his living. This was the past story of Teeka Tiwari before he became one of the most efficient and popular crypto investors and financial advisors in the world.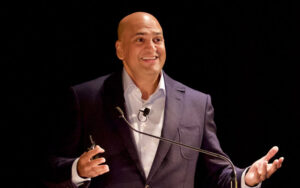 Teeka Tiwari's first investment and the beginning of his journey
At the Palm Beach Research Group, Teeka Tiwari is one of the most celebrated editors. He is popular because of his reputation as someone who had begun relatively earlier than others in the finance industry. At the young age of twenty that is when he was twenty years old, he worked hard and earned the position of the post of vice president of Shearson Lehman. 
He is one of the first financial experts who started to invest in cryptocurrencies to explore the world of cryptocurrencies. He was also a manager at Hedge Fund and also worked as an executive in Wall Street. 
Success in his first adventure in the finance field
In early 2016 he recommended the world to invest in Bitcoin and Ether which had a value of around 400 US dollars and 9 US dollars at the time he gave this recommendation and that was just the beginning of a story that is unpredictable and shocking.
Teeka Tiwari's investments beginning and the success
Teeka Tiwari was the first person who saw the potential in cryptocurrencies, he used to recommend his students to invest in cryptocurrencies especially Bitcoin at the time when the value of Bitcoin was just 10 United States dollars, and then it skyrocketed suddenly to 360 United Sales Dollars. 
He has now predicted that there is a coming skyrocketing possible in the market of Bitcoin in the next six months. Now his net worth is 6 million dollars and he is one of the most successful people in the financial field. 
So this shows that the life story of our crypto expert Teeka Tiwari is a real-life rag to riches story from starting his journey in the United States of America with just some clothes and 150 dollars in his pocket to now becoming a multi-millionaire he has seen it all in his life. He as a financial advisor is great and he is really good with his estimations and predictions. It is guaranteed that if Teeka Tiwari advises someone to invest in something they should follow his advice without any question because he has never failed in providing big gains to his customers.
Teeka's way of working and his success
Teeka Tiwari has been leading investors into investing in cryptocurrencies for many years now. His work experience and success say why he is the most respected financial advisor and crypto investor in the present day. 
He leads the investors towards the opportunities he thinks are worth the money and leads them to those investment opportunities and always allows them to get big returns. He also says his clients that there is a limited risk but they have no worries because of the work experience he has in this field and the level of success he had achieved. 
Some days back he predicted it would be good he predicted the rise in the value of a cryptocurrency named NEO. Investors were thrilled by this and so they invested in the cryptocurrency and within a matter of time that 50 US Dollars turned to 15,000 US Dollars which is a 30,000 percent rise in its value. This shows the experience of crypto expert Teeka Tiwari and how perfect his predictions are which makes him a great financial advisor.
Teeka Tiwari's chemistry with Bitcoin
Bitcoin is now one of the most popular Crypto Currencies in the world. The moment this article is being written the value of Bitcoin is 55,000 US Dollars. In the year 2021, the big businesses does their transactions in Bitcoin. 
He was one of the first financial advisors who recognized the potential this cryptocurrency has and he was one of the first people who had a long-term vision about the future of Bitcoin and the impact it is going to bring in this world. In the beginning, he helped investors and advised them to invest in the cryptocurrency namely Bitcoin. 
Now we all can see the success of this crypto and how this changed the life of Teeka Tiwari from a person who had no house and only 150 US dollars when he came in the United States of America to become a millionaire with a net worth of 6 million dollars and the most successful financial advisor in the field of crypto he has seen it all.
Conclusion
Hopefully, this article has helped you to know about Teeka Tiwari and also made you aware of the secret behind his success. You have also read about his past life and his work life in offices and also how he became the most successful and efficient financial advisor in the world.