Garmin Venu SQ, without AMOLED Display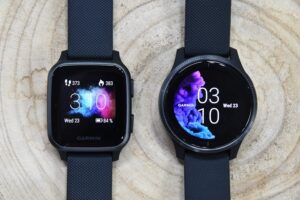 The stigma in the market today is that, if you want a decent sports watch or multi-sport watch you have to splash out a lot of dosh. When you think sports watch you usually think of the polar vantage polar grit maybe the Suunto 7? What about the Garmin fenix series or maybe the Garmin venu. But what if I told you that you could get a Garmin multi-sport watch for half the usual price for a sport watch. Please meet the Garmin the new sq and today I will be sharing the 10 secret weapons of this monster!
1.  Two Minute Review
If you are new to TechMie we write about the latest tech news, we do brutally honest reviews and share hacks and tricks along the way! The venue sq was released by Garmin in September 2020 and it came in with a bang because it costs just 180 pounds or 200 bucks. It came into a very busy space where we have very sporty smartwatches as well as budget sports watches but it brings along the flagship frills of the Garmin venu but with slight shortcuts being made and we'll cover some of them just now to ensure that the Garmin venu stays the flagship of the venu and the venu sq.
2. Design and Display
Some cut corners had to be made for the sq. such as the sq actually features a 1.3 inch LCD screen, so bye bye AMOLED!. Because on the venu you do get a 1.2-inch amoled display. Ee also lost the barometric altimeter now a GPS one is used. Garmin also removed the gyro sensors as well as the live watch faces. But it can say that unless you are a pro athlete you will be very unlikely to notice any of the difference between the venu and the venu sq. Well, except for the amoled screen and the live watch faces of course and now let's kick off and cover the 10 secret weapons of the Garmin.
The new sq the Garmin venu SQ combines the comfort and convenience of a fully touch activated display with two buttons on the right hand side for additional efficiency. It has a simple but ergonomic design it's square in essence going back to the Garmin Vivo series roots. Dimensions are 37 by 40 millimeters and it's only 11 millimeters thick. It weighs just 39 grams and that's feather-light for a full-fledged multi-sport watch. Sleeping in it and wearing it non-stop for long periods of time is just too easy it's mega comfortable on your wrist.
The display is a double edged sword but it actually see it as a positive because shortcuts have to be made. So it's not amoled but you still get a full color 1.3 inch lcd screen.
There are three brightness levels let's be fair the colors do look more washed out than amoled screens but the viewing angles are still excellent. There's more than enough space for the menus and check it out when using Garmin pay entering your four digit code is as easy as pie on this large screen. For health metrics it's got an optical hr sensor for continuous heart rate monitoring with pulse ox aka sp02 or blood oxygen saturation tracking on the back. Mind you the pulse ox function on the Garmin Venu SQ is not as simplistic as just on-demand measurements.
3. Fitness Tracking
It can actually track your continuous pulse ox during the night, during the day or on demand if you do need it just at a point in time. Having your sport metrics continuously measured overnight. Provides much more insight into your breathing patterns and respiratory health. And can even forewarn of medical and lung conditions such as bronchitis asthma and sleep apnea.
You also get dual gps on the Garmin venu SQ with galileo and glonass the lock-on is quick and the signal holds steady for the length of your workout with onboard gps. You don't require having your phone with you while cycling running or trail hiking and even open water swimming. It is possible because the watch  is waterproof up to 50 meters. Sleep monitoring is important as ever and the Garmin Venu SQ takes us to a whole new level not only does it monitor light deep and rem sleep. The Garmin connect app shows a sleep stage timeline with overlays available for movement pulse ox aka sp02 and your breathing rate for a deep down analysis of your sleep patterns.
4. SmartWatch Features
The Garmin Venu SQ also brings about a very advanced feature called body battery and if you recall we saw that on the polar ignite this body battery is smart tech that tracks the exercise you perform during the day. Looks at your heart rate measurements spo2 and prior night's sleep data to give you a score. That represents how much charge you have for the new day ahead. The great thing about this is that it's not a screen that shows your day in retrospective, it's a live reading. Any time during the day you can see how much charge has drained and is remaining. what we usually don't see on a full-on sport watch is smart  features such as NFC.
With the venu sq you do get Garmin pay contactless payments.With Garmin pay is a joy to use register in the Garmin connect app tapping the code on the watch face and off you go tapping away we find this way more convenient than pulling out my bank card when i buy lunch jump on the tube or pay for any other item under 40 quid.
5. Music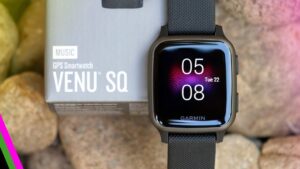 The venu sq in front of us here today does not have music storage just music controls from your smartphone so it saves you pulling the smartphone out of your pocket. But if you do spend 50 bucks more and get Garmin venue music sq you will get 4Gb allocated storage for music. Notification management is something sport watchers are usually not very good at.
6. Notifications
Well, the venue skew has a surprise it's actually very good at it unlike the budget smartwatches and sport watches. You get to see a list of your text and emails in the notification screen these are color coded for different sources. The texts don't disappear once you read them only if you clear the particular message or the full list.
Another major plus is that you get more rows of the text than the usual three to five rows seen on other brands. I'm sure you've heard of dedicated sport and coaching apps from other brands. The Garmin being the multi-sports champion offers a much more personalized approach helping you reach your running goals. Using Garmin coach you choose your running target b to run faster or longer or both or whatever you actually get to choose your coach.
There are videos introducing the coach and their training methodology. Tons of experience, qualifications and a practice routine in place join the program and enjoy the downloadable structured workout support with Garmin coach!. So you also get female health tracking as well as access to one of the most complete wearable ecosystems in the world.
Conclusion
You get access to Garmin connect if you've got a myriad of watch faces there apps, widgets that you can download to your watch. The venu SQ can also connect to ant+ and Bluetooth sensors for your treadmills and gym workouts.