If the businesses are trees in the forest of the world market, startups are like the new buds.
I could not think of any better analogy that could surmise the value and difficulty of nurturing and growing startups in this highly competitive business world. Apparently, the situations and challenges startups have to face and conquer surely but steadily evolve them into respectable enterprises.
As a startup, it is imperative that it must gather enough customers or clients to sustain its operations. It still takes a lot of effort and planning to invest the limited funds and resources they have in essential business tools and assets. One such asset that any startup must invest in is a professional website.
Physically reaching out and transacting is a given but, in the face of a cut-throat contest for survival, startups can only do so much. Nowadays, startups can outlast most of their rivals by creating and expanding their digital presence.
Having a well-performing website makes a lot of difference for a startup as it acts as an online portal for business activities. However, a website can only perform well if its hosting is well.
Shared hosting services are the most sought-after web hosting services in the world. Although the trend is slowly fluctuating, it is impossible to deny the fact as to why many users prefer shared hosting for their websites. It is, after all, the cheapest web hosting service out there.
What makes shared hosting so cheap?
The hosting provider uses the limited space on a single server machine to host many websites of many clients. It is a cost-effective way to provide the most basic hosting service, i.e., shared hosting, and still earn profits while keeping the costs low.
Hence, it is obvious to go for the most basic of all web hosting services for your first website but, you need to be a lot more skeptical about choosing one.
Traits of an Ideal Shared Hosting
Although it is the most basic web hosting service, shared hosting can effectively host a business website provided it has some distinct features.
Uptime
Uptime is the way to determine the availability and overall reliability of the system. It is a vital factor to ascertain before picking the hosting service. Always pick for hosting services that guarantee high uptimes.
Loading Speeds
Page loading speed is crucial for any website to make it more satisfactory to users. The hosting service plays a major role in achieving fast loading speeds. The hosting should provide decent processing power, memory and data transfer speeds for the web pages to load faster.
Easy to Manage
There isn't much tie and effort one can spare to manage the hosting maintenance and other functions. Thus, the provider must offer some tools and applications that ease your work.
Cheap
When all is said and done, there is a reason why most users prefer shared hosting services. It is because it costs the lowest. Pick an inexpensive shared hosting that will save more money on website development. However, compromising on quality is for a lower price is also ill-advised.
Given that there are tons of hosting providers that claim they are the best, there is one that stands out the most.
It is MilesWeb!
I'm not saying it just for the sake of promotion. MilesWeb is one of the few providers with shared hosting that ticks everything on the list of an ideal shared hosting service and more. MilesWeb offer all types of web hosting services like VPS, Cloud, WordPress, Linux and Windows hosting.
There are some good reasons to back my claims.
Features of MilesWeb's Shared Hosting
MilesWeb provides exceptional shared hosting services and is the highest-rated hosting provider on many rating platforms. Its customers have spoken highly about its shared hosting service and have given positive reviews.
Here are some of the reasons why:
Free Domain
MilesWeb offers a free .shop domain for its one/three-year Tyro plan. If you choose their one/three year Swift or Turbo plan, you can pick between a free .com or a .shop domain.
The domain will be free for the first year of the service, after which you have to pay for the remainder of its term. Considering that these domains sell at a high price, this will save you a lot of your funds.
SSD Storage
As one of the fastest and most reliable memory storage technologies, SSD storage is the lucrative feature for MilesWeb's shared hosting. As far as the performance for SSD drives goes, by estimates, they are 200% faster than traditional hard drives.
Guarantees
MilesWeb is among the few companies that offer guarantees with its web hosting services.
Uptime Guarantee: MilesWeb offers a 99.95% uptime guarantee with its shared hosting. 99.95% uptime is considered to be among the highest in the hosting business.
30-Day Money-back Guarantee: MilesWeb is confident in the quality and delivery of its services. They offer a full refund under their 30-day money-back guarantee to clients who are dissatisfied with the service.
Control Panel
MilesWeb provides its clients with a user-friendly control panel complete with login details with their shared hosting. With a control panel, users can monitor, maintain and manage their web hosting effectively.
Customer Satisfaction
As mentioned earlier, MilesWeb offers a 30-day money-back guarantee. Meaning, they have that much confidence in their service and the customer satisfaction it imparts.
Not only that, with their award-winning customer support that is available 24/7, they effectively resolve any grievances that you may have. Their customer service is one of their selling points and sets them apart from the big names of the hosting industry.
Pricing
MilesWeb is offering a heavy 80% discount on its shared hosting services. The hosting plans by MilesWeb start at ₹40 per month.
Here are the shared hosting plans of MilesWeb: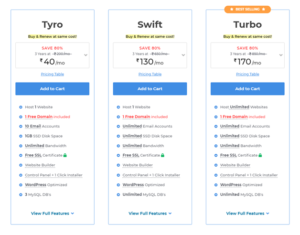 How are Startups Attuned to it?
Startups are businesses that fall under small-medium enterprises(SMEs). The daily transactions and other business operations may differ in volume but still not amount much compared to bigger and veteran enterprises.
The websites of startups may receive decent traffic, but owing to their infantile phase, they rarely explode in popularity. Thus, a sudden rush of web traffic to put a load on the server occurs hardly.
MilesWeb's shared hosting balances all the necessary features like processing power, bandwidths, memory capacities, etc. required for a regular business website. Startups are no exception as they can readily switch to better plans with their growth.