Find the best WordPress theme and download it now.
Want to spread your words online? Or want to sell your product online? Or want to earn money online? Everybody has their reason and own ways to join the internet. Whether you want to go for blogging or an eCommerce site you need your website first. And here WordPress provides you the most illegible platform for all your requirement. WordPress sites are really easy to use, easy to install, and easy to handle. A perfect WordPress site will look good and fulfill all your wishes when it has a perfect theme.
Nowadays there are 10000's of WordPress themes available. Some themes are free, some themes are paid and these come with different packages and uses. You can also build your WordPress theme, but who has the time for that, we can get one easily if we put little effort to find it. Then finish, just install your theme, make the required changes and start exploring yourself.
It is quite difficult to find beginners a perfect theme for their requirements. There are so many popular multi-purpose themes available easily for any kind of website. To have the perfect theme for your website makes a huge difference to grow fast. Our main focus in this article to give you an idea to the bloggers which are the best themes suits to your blog.
In a previous blog we have given the free WordPress theme list and their characteristics, here we are again trying to introduce you to some paid as well as free multipurpose WordPress themes
• list of finest WordPress Theme
Here is a list of some sorted WordPress themes which may help you to build your website.
1. Astra
2. Authority Pro
3. Divi
4. Inspiro
5. OceanWP
Let's have an introduction and prices of each theme one by one.
I. Astra
So much popular and ideal theme with 1 Million installations, easily go with all your requirements.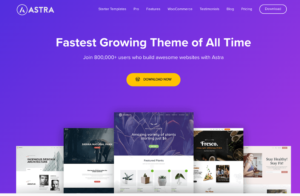 Astra is most popular and highly accepted by users. Currently, it has reaches the milestone of 1 million installations. Asta theme comes with a free version as well as a pro version. If you are a blogger then you can go with the free version. If your website is ecommers website then you need its paid version. Astra supports so many page builders like Elementor, Beaver Builder, Brizy, Gutenberg, etc.
Astra's paid version is so much suitable for your sales-oriented e-commerce websites, it has features like an infinite scroll so that your user can search on the same page, they do not change the page or jump to another page after a little scroll down. And also off canvas sidebar is one of the most interesting features of this theme, you can add multiple filters and widgets so that users can find quickly and easily what they want and user can go for easy checkout on the same page as it supports multiple checkout feature. You can customize your site whether you are looking for instant checkout or two way checkout or distraction free check out, as it is feasible for users. You can easily add multiple payment options as well.
Customization is most interesting option in this theme, there is a need for lengthy coding and developers' eyes required. You can alter the layout without single typography. This is why Astra advertised as a fast responsive theme that is so fast to keep your visitors on your site.
Three different plans with Astra Pro
I. 47$ per year
II. 249$ lifetime (if paid one time)
III. 249$ per year for agencies (699$ lifetime if paid one time)
Reasons to Buy
• Comparatively Fast
• Customisable
• E-commerce feature available
2. Authority Pro
Perfect for any e-commerce website and included Genesis Framework.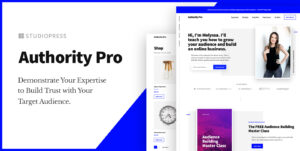 You are doing business online? Selling products, clothes, accessories? then this is the perfect theme for your website. Authority pro specially designs for an online business website, you can expand your branding online.
Authority Pro is fully responsive and get go with any e-commerce plug-in of selling website. its pro version is already configured with Woocommers. It has tremendous ability to work with any type of e-commerce theme, it will never let you think again.
Authority pro has only one fixed plan for a year, and it compulsory come with Genesis Framework. If you pay for one time then your fee will be $129.95.
Reasons to Buy
• Best for E-commerce Websites
• Fully Responsive
• Within Budget
3. DIVI
One of the most used and popular multipurpose WordPress themes on the market is DIVI. DIVI was designed and created by Elegant Themes.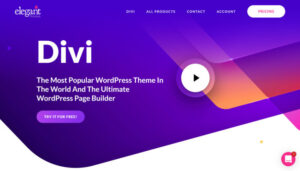 If you go with the pro version of the DIVI theme then you can access the WYSIWYG tool. This tool is useful to see how your website will be looked after you have done its customization. You have so many options available with the pro version to customize your theme such as Templates pages, different fonts Different colors, you can select your favorite layout, drag and drop elements, and many more. And all these are so much easy to use.
Easy to handle sliders are also available. You can apply different effects on images, you can change its color balance, gradient, opacity, you can blur images blend image. Whatever you can do with this theme. There are so many options available to modify your theme, it's like an art program rather than a thing you are working on the business theme. All these things are so much useful to make your theme more modern and user-friendly.
The most important feature of this is that DIVI allows you to save all your layout customized by you to save in its library so that later you can reuse these layouts.
DIVI comes with the only package for $89 per year. Or you can do a one-time purchase in a minimum amount of $249.
Reasons to Buy
•Visual Editor
• So much customization available
• Easy to use
4. Inspiro
One of the best theme for people who work for photography, videography, and Images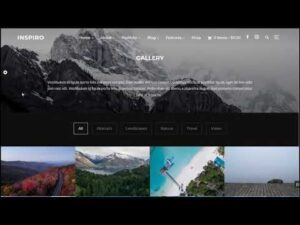 Fully designed for photo galleries, Gif, Video library websites. Inspiro WordPress theme design to supports Photos and video websites. You can upload videos, download videos, Photos, and Gifs. It also supports full screen Slideshare feature. Inspiro theme support gallery module so that you can manage portfolio od photos, and video. It will so much useful to look your website more beautiful.
It has a specially designed theme options panel so that you can customize your websites as you wish to. This is a phots and video based website so it has different customization options. Theme options panel and built-in page builder give so much a classy look to your website. Inspiro comes withWooCommerse one of the best eCommerce plugins for WordPress.
You can buy a paid subscription for inspire for 1 year at $79. You can also go for an unlimited lifetime plan for $ 179 which provides you all the supports, updates, and query guidelines.
Reasons to Buy
• Slide share available
• Best photo images websites
• easily modify
5. OceanWP
Best WordPress theme for bloggers and it's free.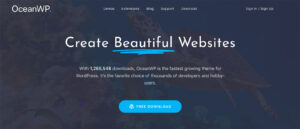 The best, highly recommended, and most popular WordPress theme is OceanWP. Ocean WP completed a 3.6 Million download recently. These numbers show its popularity and efficiency of work. OceanWP theme advertised itself as a free theme, and in so much instinct yes it is a free WordPress site. Now it is working best on its e-commerce version update on the theme.
OceanWP has its own most wondering specialty and that is demos. This has so many demos available on your one click. You use any one of the demos and install the theme on your website.
You can go for the pro version of the theme if you want some extra advantages to your websites.
OceanWP has so many plans for its customers. It starts with $39 per year for a single site with 12 premium extensions and 100+ free demos. You can choose a business plan also if you have more than 3 websites and it is $47 per year. For more than 3 and up to 25 websites use agency plan $77 per year.
And if you don't like annual subscription the go for lifetime plans that is of $159, $191, $311 respectively.
Reasons to Buy
• Free Core Theme
• So many Demos Available
• Pushing its eCommerce feature
There are so many other WordPress themes available that are just one click away from you. Every theme has its different features. You just have to find a perfect theme for your website. So many themes prove their demos so it will become easier to find the perfect fit. WordPress theme truly gives you meaning to your websites. Websites without perfect themes mostly affect your business badly.
So here is a list of some more WordPress theme which may be useful to you
1. SeedProd
2. StudioPress
3. Avada
4. Ultra
5. Spencer
6. Indigo
7. Hellomouse
8. Parallax
9. Presence
10. Hestia
11. Feltman
12. Veni
13. Bento
14. Atmosphere Pro
15. Explorer
16. Peak
17. Struct
18. Modules
19. Mesmerize
20. Elegant