Introduction: 
Do you want to mine cryptocurrencies like bitcoin, Litecoin, Ethereum? If so, you will need to purchase a hardware device called a GPU mining motherboard. Selecting the proper device may be hectic for you. To make GPU mining motherboard selection easier for you, we have listed the 12 best GPU mining motherboards for you. Go through the list below and select the proper one. In this list, you will come to know the advantages, disadvantages of motherboards and specifications with their features.
• Upgraded Crypto-Mining Malware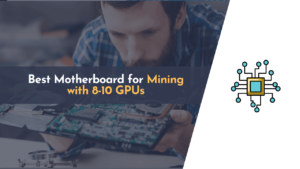 Here is the list of the 12 best Crypto Mining Motherboard in 2022
1. Asus B250 Mining Expert
It is the world's first motherboard that supports 19 GPUs. The Asus B250 mining expert uses the ATX form factor. You can consider using this GPU mining motherboard as it comes with a special mining mode. It does not require adjustment in the BIOS order, which results in maximum cryptocurrency payout to you. Additionally, it is designed with over-voltage protection, and that is awesome. Its only drawback is that it is a bit expensive. If you want to mine bitcoin, you can prefer the Asus B250 Mining expert GPU motherboard.
2. ASRock H110 Pro BTC+
ASRock H110 Pro BTC+  supports 13 graphic cards and uses the ATX form factor. As Windows 10 can't support more than 8 GPUs, it may not be compatible with Windows 10. Moreover, you can consider it for future updates. It is not for you if you are a beginner to Bitcoin mining. It is hard to set up, and you may not need all the slots available on it.
3. ASUS Prime Z390-P LGA1151
This GPU mining motherboard supports only 2 processors. But it is designed for intensive mining conditions. It uses ATXGPU as a form factor. Furthermore, the Asus prime Z390-P can be used for other non-mining applications, which is an additional benefit of using it. This Asus prime motherboard comes with over-voltage protection and a dynamic cooling system.
4. Biostar TB250-BTC Pro
To mine more than one currency, you can look at Biostar TB250-BTC pro as a GPU mining motherboard. It supports 12 GPUs with an ATX form factor. This motherboard by Biostar can be the best investment if you want to expand mining in the future. Its limited availability and high cost can sadden you. Otherwise, it has many amazing features.
5. Z170A Gaming Pro Carbon
If you are a gamer and willing to mine bitcoin or any other crypto coin, you can think of the Z170A Gaming Pro carbon GPU mining motherboard. It supports 7 GPUs, with the form factor being ATX. It is among the best 12 GPU mining Motherboards because of its ability to support gaming. It comes with four DDR4 slots for memory with multiple ports and connectivity, including gaming LAN.
6. Asus ROG Strix Z270E
Similar to the above one, Asus ROG Z270E supports gaming in addition to mining. You can use it for 7 GPUs and ATX form factor. Gamers love the Asus ROG brand; with this additional feature, they will love it more. Talking about other features of this motherboard, it comes with auto-tuning, 5-way optimization, and fanxpert4. These features give overclocking profit to users with their multitasking ability.
7. Ceramic BTC37
Ceramic BTC37 has a unique design among other GPU motherboards in the article. It uses ceramic-based design, the latest unique option. This board uses a custom form factor and supports 8 GPUs. Ceramic BTC37 has an integrated CPU, so it doesn't need an external CPU. That is the only drawback of this motherboard. It is primarily developed for mining purposes.
8. Tessyyke BTC 37 mining machine
The GPU mining motherboard for mining by Tessyyke is very similar to the above one. This is not an expensive board for you to use, so if you have a low budget, you can consider it for mining. It also comes with a custom form factor like creamic BTC37. It may frustrate you because of its integrated CPU, as it affects the connectivity options. It is compatible with 8 GPUs at a time.
9. Gigabyte Z390 UD
Yet another device in the 12 best GPU mining motherboards is gigabyte Z390 UD. Its capability to do computing tasks makes it different from other motherboards. Considering the form factor, it uses standard ATX with it. This gigabyte motherboard can use 6 GPUs at a time. The LGA 1151 socket embedded in this board supports Intel CPUs of the 8th and 9th generations. If we talk about its drawbacks, it has a fixed number of PCLe slots for GPU expansion.
10. Biostar TB 360 BTC pro 2.0
This is the second GPU mining motherboard in our list by Biostar. They have designed one more mining rig device that gives amazing mining results. TB360 BTC pro 2.0 motherboard is an entry-level GPU mining motherboard that uses the ATX form factor. It offers 12 slots for GPUs. Limited storage options inbuilt in this board are a big issue. Considering the given chipset, it may not suit everyone's pocket.
11. ZOTAC B150
Zotac is not very popular around the globe for computer hardware devices. But the Zotac B150 GPU motherboard is a good one. It supports the ATX form factor, 8 GPU slots for the motherboard, and 2 DDR4 memory slots. You can build an intel based mining rig using this motherboard. If we consider its demerits, it only supports CPUs up to 65 watt ratings, and it is large in size.
12. MSI Z390-A PRO Motherboard
It is the latest version of the GPU mining motherboard launched by MSI, especially for mining, named it as MSI Z390 A pro. This GPU motherboard is similar to MSI Z270  MATE but with advanced features of working. It has 6 PCLe slots and an m.2 slot with support for 7 GPUs. It works fine, you can consider it for mining cryptocurrency.
Conclusion
There is no end to the list of GPU mining motherboards. However, we have shared the best few of them with you so that it will help you to use the proper one.