Almost 60% of the human body is water, imagine if this water is contaminated? Clean drinking water is the right of every human being. Nowadays the quality of water decreases in every region. Industrialization, agriculture waste, drainage water are the main reasons to make water pollution. In that case, it is a really difficult job to provide a pure and hygienic water supply to cities and towns.
We can see many industries releases their wastewater directly into the nearest water source, this is so much harmful to the environment as well as leaving organisms in the water source. This same chemical added water absorbed in soil and groundwater is also get contaminated.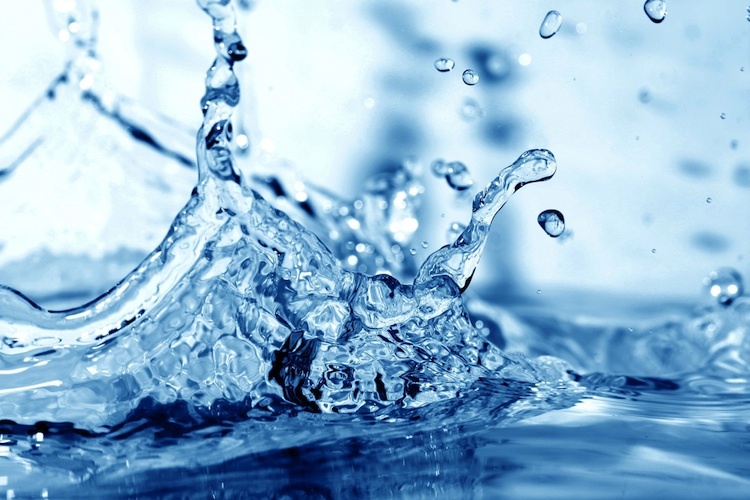 Contaminated Water and its Causes
Natural water reservoirs like a lake, dam, river are now infected due to human waste, industrial waste and this situation is present everywhere. In such a situation drinking water directly from sources like rivers, dams or even borewells is harmful to humans. This water contains health affecting elements like lead, fluorine, mercury, and so on. Those harmful elements can cause many severe health issues such as Cholera, Typhoid, Diarrhea, dysentery.
Purify the water before use it for drinking is so much important to avoid any kind of health issue. Every government has a responsibility to provide its people with pure and filtered drinking water. Water filtration is the only option so that we can have a glass of safe water to drink.
Globally many water treatment plants established since the last century and their only sole purpose are to provide clean and purified water to the people. The United States also suffers severe drinking water issues in response to supply people with safe water.
Now there are many water treatment companies are working in the US and globally. Basically, water treatment companies work on wastewater, these companies collect water from many large industries or factories and filter it so that it can be reused for agricultural use or it can be released into the river and any other water resources.
Water Treatment Market Overview
The global and USA water treatment market covers $263bn in 2020 and it is expected to boom by 2028 to $463 bn. That is it 7.3% CAGR ratio can be found in the forecast year of 2020-2028. The water treatment market includes chemicals, equipment, services, and products.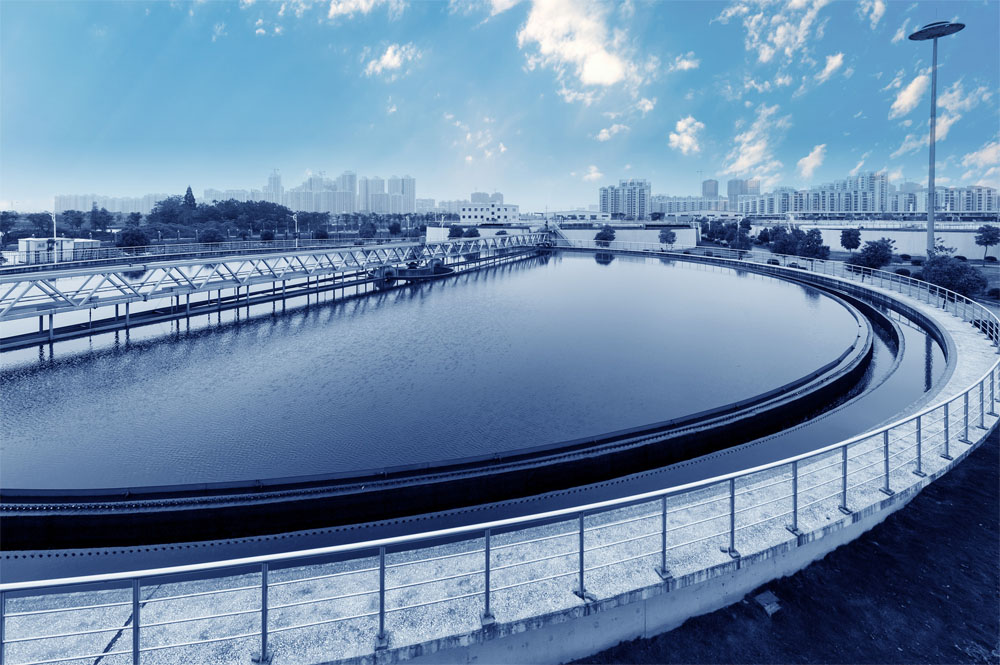 Here we will get some information about the US water treatment companies in detail.
VOSS technologies INC.
Xylem Inc
ITT Inc.
Dow Water & Process Solutions
Evoqua Water Technologies Corporation
GRAVITY FLOWS SYSTEM INC
Pentair Plc (U.S.)
3M
Cutting Edge Services Corp
Micronic Technologies
AquaRealTime LLC
inCTRL Solutions Inc.
BioMicrobics, Inc.
GE Water and Process Technologies
Cuzn Water Filtration Systems, Inc
Let's have a brief overview of a few water treatment company
Voss Technology located in San Antonio United States was established in 1988. The main objective of this corporation is to manufacture groundwater sampling merchandise. It is a small commercial enterprise owned and driven by a group of women.
Voss Technology progresses in finding and developing the latest water sampling devices to make the process of collecting samples will be easier and user-friendly. While doing this they always maintain their product quality at the cost. Voss Technology is the topmost enterprise and producer of groundwater sampling products.
Voss Technologies Product list
Bailers
Coliwasa
Filters
Pressure Bailers
VOC Samplers
Xylem is one of the topmost listed water treatment companies headquartered in RYE Boo- New York, United status since 2011. The company is responsible for providing engineering solutions for water and wastewater storage and treatment packages. This company has 3 commercial partitions namely Water Infrastructure, Sensus, and Applied Water.
Xylem is the fastest growing water treatment company spread over North America, Europe, Asia-Pacific, Middle East, and Latin America.
Xylem Services includes
Design and Installation
Equipment Analysis and Upgrade
Facility and Operational Support
HDPE Pipe Infusion
Rental and Onside Services
Training and Technical Support
ITT was first introduced in 1920 and headquarter is located in White Plains US. The main objective of this corporation is to produce and sells components for water filtration, Energy, Gas, Transportation, and Aerospace.
ITT is segmented into four parts namely Industrial Process, Motion Technology, Interconnect Solutions, and Control technology.
It Manufactures components for water purification and supply includes,
Pumps
Valves
Plant Optimisation Structures
Centrifugal Pumps
Vertical Centrifugal Pumps
Twin screw Pumps
Water supply Pipes and Systems
Dow water and process solutions Founded in 1985 and located in Edina USA. The main purpose of this corporation is Marketing, Manufacturing, and sale of Water filtration and separation solutions. In this corporation, wastewater treatment undergoes many processes including, Ionisation (ion exchange), fine particle removal, bacteria removal, and many other chemical treatments. This treated water can be used for agriculture and again for industrial use.
Geographically dow Water & Process Solution corporation located worldwide including regions North America, Europe, Latin America, and Asia-pacific
Services Offered
Water Purification and separation solution
Power generation
Ultrafilteration Module
Electronization Module
Ionization Module
Reverse Osmosis Elements
Evoqua Water Technologies Corporation headquartered in Pittsburgh USA Emerged in 2013. It is one of the fastest growing water treatment companies. To date, it has 170+ branches worldwide mainly located in Latin America, Europe, and Asia-pacific.
The Evoqua Water Technologies Corporation provides services including, design, developing, and manufacturing wastewater treatment components. It operates on drinking water, municipal wastewater, industrial, aquarium wastewater treatments. The Evoqua aims to increase filtration and reuses of wastewater to meet environmental conflicts.
Evoqua Water Technologies Corporation offers water treatment using, UF membranes, clarifiers, gravity filters, and chemical treatments.
Services include
Aerobic Wastewater Treatment
Anaerobic Wastewater treatment
Digital Water
Mobile and Temporary Water Treatment
Clarifiers and Separators
Covers and Liners
Disinfection System
Around 1970 Gravity Flow system company originated in the Texas region of the USA. As the name indicated it uses earth gravity and natural forces to separate solid elements from water. This is the basic process in water purification that uses a gravity flow system corporation. Initially, it is known as Hendricks and Fluid System that created the Gravity Dewatering filter and Bed System 40 years. It uses stainless-still wedge wire for dewatering and drying the solid components.
The company undergoes many upgrades and changes through the years now it is spread over many regions including the USA, APAC, and Europe.
The Company offers products and services as follows
Vacuum-Truck Waste Bed
Wedgewater-Filter-Bed
Lateral-Flow-Decant
Wedgewater™ Sieve
Wedgewater-Stainless-Steel-Filter-Bed
Pentair Plc was first established in 1966 and headquartered in London U.K., Its main office is located in Minneapolis, USA. Coming straight to the points Pentair segmented into water and energy.
The water segment includes design, development, manufacturing, and services providing to the water filtration, processing, separation, transport, and water management in agriculture, aquacultures, food industries, water supply to societies, and many industrial applications.
Pentair working in many areas including Europe, North America, Asia-Pacific, Middle East, and Africa, and Latin America.
Pentair Products
Pool and Spa Equipments
Water Quality
Water Supply and Disposal
Water Supply Pumps
water Disposal Pumps
Water Filters
Filter Housing
3M was founded in 1902 in the USA as a machine hardware manufacturing company. It has many segments including water treatment, automobile, energy, mining, oil, and gas, etc.
In the water treatment segment, the company offers water treatment infrastructures like storages tanks, rehabilitation products, water supply pipes, protecting water tanks, pumps, water valves, and many other small and large equipment that are useful in the water filtration and supply process.
Globally it is present in many countries like UK, Europe, and APAP region.
3M water treatment products
3M™ Fully Automatic Water Softeners
3M™ Scale Prevention System
3M™ Appliances Protection System
3M™ Chlorine Removal System
3M™ Whole House Water Filtration System
3M™ Smart Drinking Water System
3M™ Safe Kitchen
3M™ Bacto Free
3M™ EcoSip
3M™ RO Drinking Water System
Cutting Edges Services Corp has a specialty in diamond wire cutting, underwater drilling, and construction. Its headquarter is located in Ohio USA.
Cutting Edge Services corporation has 15years of experience in cleaning dams, removing discharged rings, and cutting stators. It develops the first North American underwater diamond wire saw in 2015. It provides all the hardware replacement services to the man made water reservoir and water filtration plants.
It provides many services
Underwater Cutting, Drilling, and hardware Replacement
Component Segmentation
Underwater Robotic Demolition
Field Machining Services
Consulting Services
Micronic technologies were first introduced in 2008 and its headquarter is located in Bristol VA, USA. The sole purpose of the company is contaminated and wastewater cleaning. The water purification system is based on Tornadic One-Pass, which removes all harmful particles from the wastewater using some science and power of a tornado.
This technique can be useful in cleaning any type of wastewater. Tornadic flow device shears the wastewater stream into micro-droplets and gives clean water.
Micronic Technology Services
Tornadic One-Pass componants
Technical Roadmap
Zero Water Discharge
Contaminant Removal
AuaRealTime LLC started functioning in 2018 in Boulder united states. This company collects the footprints of algae and pollutants from water bodies. Algae Tracking in waterways, dams, river is so much important. The excessive booming of algae causes the damage of $17 Bn per year. In that case, collecting algae booming ration earlier is helpful. AquaRealTime developed the AlgaeTracker device which gives an early warning of harmful algae blooms and water pollutants. It is a fast and simple way to protect your waterways from algae attacks.
Once you enter this lightweight AlgaeTracker into water it will measure Green algae, Blue-green algae (cyanobacteria), Turbidity, Temperature, and more.
AquaRealTime LLC provides services as listed as follows
Water Utilities
Recreation Areas
HOAs and lake Associations
In 1977 inCTRL Solution was the first launch in NEW HEVAN USA. At the time of establishment, this company was active in irrigation solutions and equipment. Later with the time goes it started providing many services in water treatment and filtration process. Now inCTRL provides digital innovative solutions for water management systems that improve water quality at less cost. This organization only focuses on water and wastewater treatment and resource recovery.
inCTRL Solutions is all about quality and efficiency around wastewater, saline water, and biogas. It provides many digital types of equipment, data analysis to secure the water sources, and reuse of wastewater.
Following are the services include
Consulting
Analysis
Support
Virtual Workshop
This is one of the top leading players in water treatment industries established in 1996 in Kansas USA. BioMicrobics provides advanced integrated water solutions to manufactures. This is an active leader in water, gray water, wastewater, and stormwater treatment. It provides low cost treatment solutions at all levels.
BioMicobics has the only goal to clean water at the lowest cost and for that company produces simple, movable devices, robust technology, and product which gives you a highly effective, energy efficient water treatment system.
Services Covers
Residential, retrofit/upgrade septic tanks, and small flows applications
Commercial high strength and specialty wastewater treatment applications
Municipal sewers & large flow applications
Sustainable Community Systems
Water reuse & water recycling applications
Stormwater Treatment & Rainwater Devices
GE Water and Process Technologies is headquartered in the USA it is general electric and GE power, the company aims to provide water treatment, storage, and management solutions to its clients. They use unconditional and advance techniques to solve the water quality, scarcity, and purification challenges. GE Water and Process technologies also contribute to solving water related problems in energy and environment projects and also work at the municipal and industrial level.
Conventional gravity filters, UF membranes, evaporation, chemical treatments, and an assortment of post-treatment technologies are the services provided by GE Water and Process Technologies.
Geographically it is found in many regions worldwide such as North America, APAC, Europe, and Latin America.
Company offers
Water Management Solution
Industrial water treatment
Wastewater Treatment
Since 1987 Cuzn Water Filtration system is providing service in water treatment and management to clients. It is USA based water treatment company and It is proud to mention that this organization provides green, earth pleasant, and eco-friendly products that are completely chemical free.
Cuzn Water Filtration Systems provides water treatment and filtration service in the kitchen, swimming pool, gardening, and every household.
Products and Services
Whole House Water Filter
Chemical Free Water Treatment Systems
Commercial Water Purifies
We try to cover some of the top water treatment companies in this article with their establishment year and headquarter location.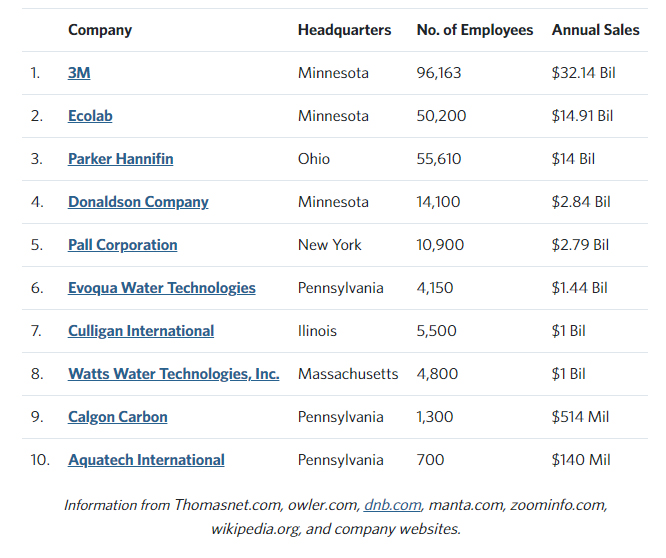 Why water treatment is necessary?
The entire world is facing drought, less rain, dry spell, and many other issues regarding water shortage like decreasing groundwater levels, decreasing dam water levels. This is a not ending and unanswerable situation we are facing. But the demand for fresh water is increasing at a high speed.
Industrialization, urbanisation, construction, manufacturing, and agriculture need a high volume of water every day. We are facing a freshwater shortage at its limit. In such conditions, water treatment and its reuse is the only way remains.
Following are some of the types of water treatments available
1. Wastewater treatment
2. Saline water treatment
3. Sewage treatment
4. Demineralization treatment
5. Reverse Osmosis water treatment
These are various treatments we can use to clean and purify the water so that we can reuse the contaminated water for industry or agricultural purposes. These types of water treatment only take place at the industry level. There are so many top players are working in the water treatment industry. Some of them are mentioned above.
Steps of Water Treatment
1. Collection of contaminated water: This step includes the collection and storage of water for treatment. Water collection tanks are located on the choice that where we are reusing the water or releasing it on the river or other water resource.
2. Water separation: Water separation takes place using gravity, solid waste gets removed from the water.
3. Chemical Adding: Adding chemicals can control bacterial multiplication.
4. Coagulation: The coagulation process is so much important step, it removes, many particles such as dissolved organic carbon.
5. Water Filtration and disinfectant: Filtration process includes, many layers of process in which water to flow into UV, RO demineralization, and water disinfectant.
6. Storage and distribution: Once the water treatment is done at this state one can store the water for reuse in industry or agriculture or can be released into the nearest water reservoir.
Drinking-Water Treatment Devices
1. Activated Carbon Filter:
Primary Use: It removes chlorine, general taste, and odor.
Limitation: Does not remove bacteria and inorganic compound
2. Reverse Osmosis:
Primary use: removes maximum contaminants than any other filter, removes some bacteria and viruses
Limitation- Does not remove chloroform, 100% chemical cant remove, required a large amount of water
3. Ion Exchange:
Primary Use- Removes positively charged ions, inorganic compounds, manganese ions, arsenic, chromium and also removes some negative charges ions such as nitrate, sulfate.
Limitation- Regeneration required.
4. Filtration:
Primary use- Removes small particles, sand, some bacteria.
Limitation- Filter replacement based on water concentration.
5. Distillation:
Primary Use– Removes dissolved minerals, metals, and toxic chemical.
Limitation- Produces limited water, the large unit requires large space, not effective against some chemicals.
6. Aeration:
Primary use- Dissolved gases like radon, methane, dissolves iron and methane.
Limitation- waste air must be vented from the house, post-treatment necessary.
7. Ultraviolet Radiation
Primary use- Removes bacteria and virus.
Limitation- Not recommended in highly contaminated water.
8. Ozone:
Primary use- Removes some color, taste, odor, and bacteria
Limitation- Not effective to remove some large cysts and metal
9.

Activated Alumina:
Primary use- arsenic and fluoride compound get remove
Limitation- required post-treatment for bacterial removal
10. Chlorination:
Primary Use- viruses and bacteria can remove, manganese and sulfur compounds remove
Limitation- Test and odor, not change
11. Oxidation:
Primary use- use to remove bacteria and virus, dissolve iron, manganese, and sulfur bacteria
Limitation- requires more time and monitoring, some oxidation causes skin irritation
12. pH adjustment:
Primary use- raise water pH to drinking level, neutralizing filters
Limitation- pH adjustment does not treat any bacteria or viruses
We can not perform a single activity without water, from our body requirements to every day task and from agriculture to manufacturing every place of task need water. Our planet contains a large source of water but this is not useful in everyday life. From drinking purpose to industrial purpose water treatment is so much necessary. We can not use salt water directly from the ocean.
We have described many water treatment companies in the USA, and there are so many other companies spread worldwide, we are also covering some of the water treatment companies from different regions as follows.
| Sr. no. | Companies | Region |
| --- | --- | --- |
| 1 | ProMinent GmbH | Florida, USA |
| 2 | Brentwood Industries, Inc. | Hope, Arkansas, USA |
| 3 | Enexio Water Technologies GmbH | Lakewood, Colorado, USA |
| 4 | Suez Environment | S.A., France |
| 5 | Kingspan Environment Ltd. | Ireland |
| 6 | United Utilities Group PLC | United Kingdom |
| 7 | Abhiro | India |
| 8 | Ahlstrom-Munksjö | Finland |
| 9 | Alfa Laval | Sweden |
| 10 | AquafreshRO | India |
| 11 | Best Water Technology BWT | Austria |
| 12 | Eaton | Ireland |
| 13 | Freudenberg Filtration Technologies | Germany |
| 14 | Lenntech | Holland |
| 15 | Mann+Hummel | Germany |
| 16 | Nitto Group | Japan |
| 17 | Purotech | Japan |
| 18 | Toray Advanced Materials | Gumi, South Korea (1999) |
| 19 | Philips | Netherlands |
| 20 | BASF | Germany (1865) |
| 21 | Lonza | Switzerland (1897) |
| 22 | Climeworks GmbH | Switzerland (2009) |
| 23 | LGC | United Kingdom (1842) |
| 24 | Puraffinity (fka CustoMem) | United Kingdom (2015) |
Above mentioned companies are activated in the water treatment industry in many ways including, water treatment devices, water management, wastewater solution, water distribution, storage, chemicals, water purifiers, and filtration products.
Final Words
All our dependency is on freshwater, but now freshwater resources are shrinking and get overused. Many of them are contaminated by sewage water outlets, industrial outlets, or by agricultural waste. Now, this is high time we have to filter this water and reuse the same. Otherwise, the day is not so away when we won't have enough freshwater to drink. So the water treatment and its reuse is so much important.